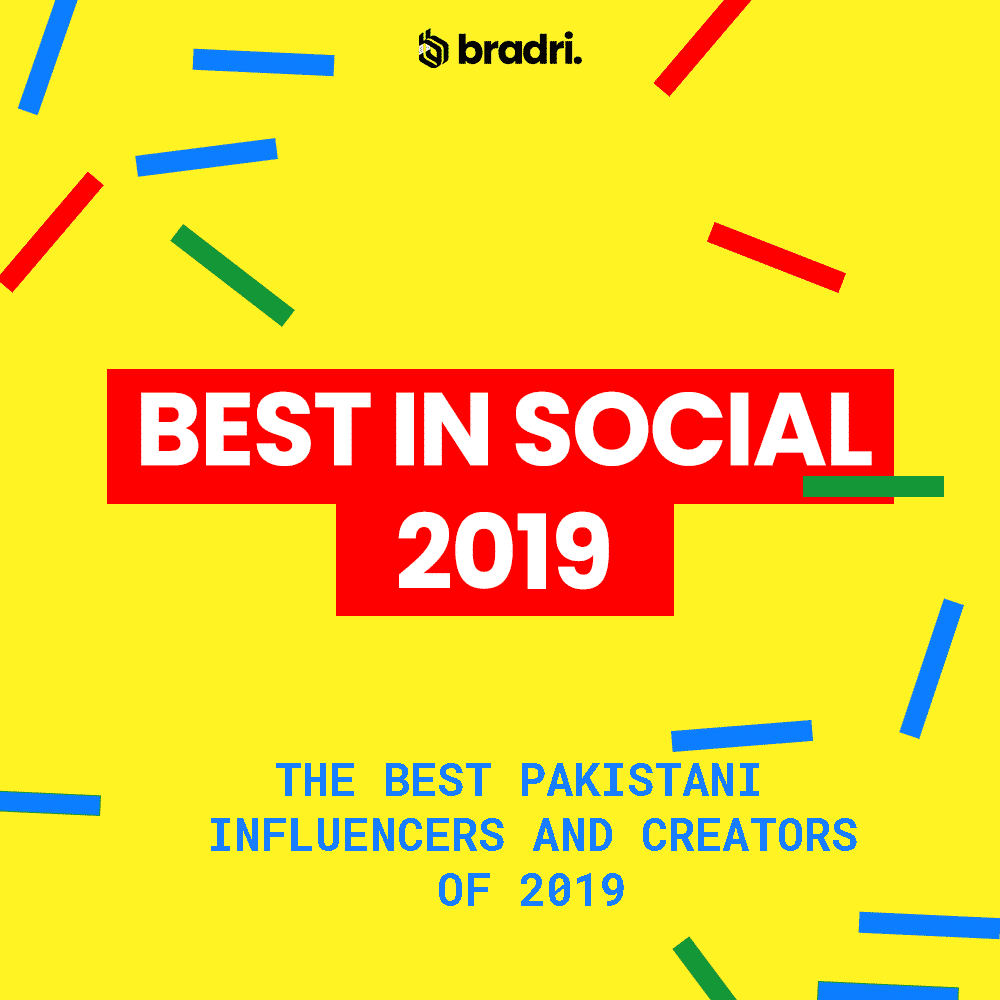 'This is the season to be happy! We are so happy about Pakistan's gains in social media, digital and influencer marketing! Biggest flex ever.
Therefore, it is our responsibility as your internet watchmen/women to present to you the year in review 2019. Without further ado, we present to you our Class of 2019! This list includes our picks of the best bloggers in their respective niches. We are hard at work all year, finding and helping brands + content creators do their best. Thus, we also keep an eye on the creators and brands that deserve a round of applause.
Let's go!

Best of 2019: Food
Rana Hamza Saif
Pakistanis love their food. It was about time some of us landed an influencer career out of it! There are bloggers posting about food all around in the country, using different social mediums. The one who makes it to our Best of 2019 list is Rana Hamza Saif (RHS).
We have posted about RHS's work before, because it truly stands out. He has 231k+ subscribers on his YouTube channel where he makes food vlogs. Lahore, Gujranwala, Bahawalpur, Turkey, he has documented the food scene wherever he went.

Best of 2019: Fitness
Mahek Taherani
It's finally happening! Pakistani fitness influencers are doing the good work on social media. People love these influencers and want to become like them. This year, we saw the most growth in this niche in Pakistan, and it is a welcome change. The Best of 2019 award for fitness influencer goes to the muvbeast, Mahek Taherani.
Mahek is a trainer and now influencer on Instagram. When she is not working out or training clients, she also makes YouTube videos. Instagram is great for fitness blogging because you get the best content out of a post in a few seconds. Mahek seems to be utilizing the platform pretty well.
Mahek has 12k+ followers on Instagram. 2020 is close, so all the Karachi peeps may go and get their fitness goals ticked off by training with Mahek Taherani.

Best of 2019: Fashion
Ania Fawad
So many pakistani fashion bloggers bless our feeds with their amazing aesthetic sense. The one who wins our Best of 2019 nod of approval is Ania Fawad. Anyone who blogs in this niche must know Ania Fawad and her killer sense of fashion. (Can you please give us some tips, Ania?)
Ania has 71k+ followers on her beautiful Instagram feed. She walks that fashion walk and also talks about the hits and misses in Pakistani fashion industry. You can follow her to stay updated on the latest trends, thank us later!

Best of 2019: Entertainment
Irfanistan
Someone has to do the hard work of collecting news from the Entertainment industry. The best entertainment / lifestyle blogger in K-town, Irafnistan fits the job perfectly. He is one of the well-known bloggers in Pakistan with his finger on the pulse.
2019 might not be the best year for Irfan, as he unfortunately lost his big account to mischief makers on the web. However, he returned with a new account on Instagram with the same passion. We salute your perseverance, Irfan!

Best of 2019: Arts
Mahoor Jamal
Get yourself a friend like Mahoor Jamal, who can make even a dried rose petal look good on camera! Our Best Art Blogger of 2019 is Mahoor Jamal, the popular insta artist. Mahoor is an art student, and started off by posting her work on Instagram.
Now, people love her art and her illustrations. Pakistani clothing brand Generation works with Mahoor to make their campaigns look dreamy and 'haseen'. You can also own one of her works by approaching Mahoor on her Insta account.

Best of 2019: Travel
Patangeer
The couple 'jo aa gaya aur cha gaya'! The power duo of Amtul and Fahad from Patangeer make it to our best travel bloggers list in 2019. Their unconventional way of creating content has touched the hearts of millions this year. They even make a long airport layover look good on camera!
Patangeer has 14k+ followers on Instagram and they also post videos on YouTube. This year, they took the iconic Redbird all across Pakistan with the collaboration with McDonalds. Their fan following loves the videos and quirky insta stories and anticipates new videos.

Best of 2019: Beauty
Glossips
Beauty bloggers came through before anyone else in Pakistan. This niche has evolved much in the past couple of years. Today, we have some content creators in Beauty who outdo themselves with each post. Glossips is one of those known names in pakistani beauty bloggers community.
Fatima Irfan Shaikh is a force to be reckoned with. She is a one woman army, acing beauty, makeup, lifestyle blogging in one go. Upcoming and aspiring beauty bloggers from Pakistan should follow her on all social mediums to learn the tricks of the trade.
Glossips has 310k+ subscribers on YouTube. Trust us, her work is going to touch new heights in 2020!

Best of 2019: Philanthropy
Qutaiba Mehmood
How can you make the world a better place? By being a good person yourself. We have known, talked to and followed someone in Pakistani social media who is a gem of a person inside out. His name is Qutaiba Mehmood and he is our pick in best Philanthropy category in 2019.
Qutaiba was a young student like many of us when he left Pakistan to go abroad. He worked hard, did all the jobs to sustain himself and won laurels in his field. Now, he vlogs and post to help others. His campaign with World Remit opened the eyes of many expat Pakistanis this year. When you hear him talk about good things, you get motivated to help someone as well.
Qutaiba uses Pakistan's biggest platform, Facebook primarily to post. His Facebook followers count upto 187k+ loyal fans. He is a true example that when you help others, good things come back to you from the Almighty.

Best of 2019: Lifestyle
Umair Mirza
Lifestyle bloggers are everywhere now, but not all of them are as good as Umair Mirza. This blogger has all our approval to top the charts in Lifestyle blogging in 2019 and beyond! Everyone from fashion to clothing to skincare and food knows Umair for his solid work ethic.
Umair has been blogging for almost a decade now, so upcoming bloggers should follow and learn from him. It is also a lesson for blogging in general that good things take their time. You have to build a network and prove your efficiency.
Umairica has 37k+ followers on Instagram but he is also active on other social mediums. He never asks for free PR mail, which is a lesson all newbie bloggers should learn and follow in 2020.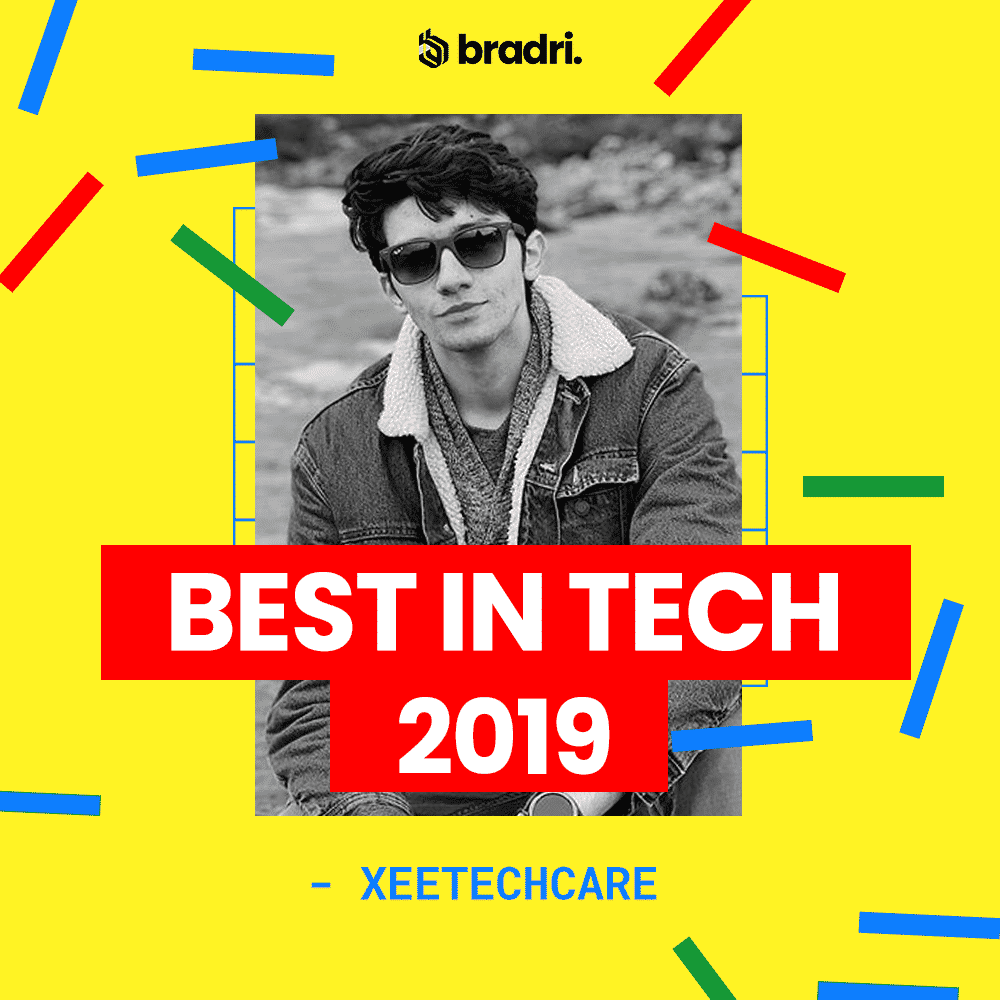 Best of 2019: Technology
XeeTechcare
Buying a phone you like and reviewing it on Instagram is not Tech blogging. Learn the real pakistani tech blogging by Zaryab Khan or Xeetechcare.
Zaryab has 93.5k+ followers on Instagram and he also posts on YouTube. Xee has been at this job for years, and you can trust his word for anything in tech. The good thing about Zaryab is that he is honest about his reviews. Honesty is a virtue many bloggers in Pakistan need to learn. You will soon realize that you can thrive without bowing down to unreasonable demands by a brand.
(PS: Xee may also be a secret fitness blogger but we are still investigating this. Stay tuned to find out. )
Best of 2019: Gaming (Honorary)
Arslan Ash
This award is not for the faint hearted. We have especially created this category to pay homage to Pakistan's finest gamer in fighting games – Arslan 'Ash'.
Arslan shook the entire gaming community in the world by winning back to back EVO competitions in 2018 and 2019. EVO is a big gaming competition which is ruled by Japanese and other foreign gamers. Arslan has been disrupting the cirlce by winning all such competitions around the world.
This is an honorary award and recognition of Ash's skill and talent. He posts about his endeavors and wins on Twitter. We hope to see more of his work and life on social media soon.
Best of 2019: Social DVC Campaign
Kingtox
One campaign that made us 'wow' this year was by Kingtox. It hands-down wins the best DVC of the year for us. Kingtox is an insect-killer, but the brand wanted to give another message. We have all seen and bought this brand from the market, but did we know that it kills all insects in one formula?
The brand sought to spread this message, but not in an annoying in-your-face kind of way. They partnered with a cool agency and the rest is history. We loved the idea, execution and community management. Brands are coming to terms with social media marketing, and preferring DVCs over TVCs.
This is a trend that will pick up pace in 2020 as well. Follow Kingtox on Facebook .
Best of 2019: Digital Brand
Jazz Pakistan
We let the stats do the talking for this one. Jazz Pakistan wins the Best brand on social media award for 2019! Jazz not only posts about new offers and deals on social media, but also regularly collaborates with influencers. Influencer marketing has been paying off well, because Jazz is leading on both Twitter and Instagram.
Congratulations to Team Jazz for winning against all odds and staying on top of their game in 2019. We hope to see more of their awesome work in 2020.
Best of 2019: Upcoming Social Sensation
TikTok
You and I could not have predicted in January 2019 that TikTok will be a big thing by December. You must have heard of or used Dubsmash in the past. TikTok took that to a whole new level. We witnessed TikTok stars, Pakistanis making it big on this new platform and so much more!
While we are still trying to get a hang of this interesting new platform that is keeping Pakistanis busy, let's agree that TikTok is a thing now. Do we recommend creating and account and following some influencers? Definitely.
So, that's it! Here is our version of Best of 2019 in pakistani social media industry. What is your take on this? Who do you nominate? Let's talk in the comments section?