Why Facebook Marketing is important for Pakistani Businesses?
Facebook is undoubtedly the biggest social media network in the world.  It's quite common if you look around and try to find people glued to their available screens interacting on the social networking platform.  In fact, about 2.23 billion people log into their Facebook profile every month, and 66 percent of these users visit their profiles daily.
As a brand manager or marketer, it is inevitable that you think a lot about promoting your product or service on Facebook. It has to be an integral component of the social media campaign of a Pakistani brand.  If you are just starting out, the most important thing for your brand is to send out
Visually pleasing graphics
Grammatically correct posts
No errors in tagging people/pages
But to take your branding and marketing game to the next level, businesses will need to invest time and resource in this channel.
In this guide, our aim is to discuss and break down a method that Pakistani businesses can adapt to take their Facebook Marketing campaigns up a notch. This can be done by discovering the right tools and tactics working for businesses and creating compelling content that can grow organically on Facebook:
Topics covered in the article:
Research and Groundwork
Marketing tools and tactics on Facebook
The importance of creating engaging content on Facebook
How Influencer generated content can help businesses
How to Start an Influencer Marketing Campaign on Facebook
Some ideas and examples for Influencer Marketing Campaigns
Research and Groundwork
First thing first, marketers should discover Facebook tools beyond just the post publish option. And if you are a savvy marketer, you have to accept the challenge and keep up with all the new features rolled out by Facebook every once in a while. For example;
Pages to watch: are you keep an eye on the competitors? The 'pages to watch' feature in the 'insights' section of your Facebook page can allow following and comparing your page to 100 brands.
Post search: go to the published posts of your page and you will find a search bar on the top left. If you want to know what worked in a post in the past, just search for that post and compare! It is especially suitable when you have something similar to announce (like the holiday season) and you need to take a quick glance at the previous insights of a post.
Like a page as your page: Yes, you can follow a page as an individual profile on Facebook, but things get even interesting when you can like another business page as a page. As a marketer, you can support other brands or initiatives by liking them through your page. It also shows up on your Facebook page!
Key insights: You can get down to the very basics by using the audience insights feature on your page. It lists down every little interaction of people with your page, so you can modify an upcoming marketing campaign by seeing what works for the target audience!
Page themes: Did you know that you can customize the look of your page? Gain a competitive edge by choosing a Facebook page theme that suits your business. To edit this, go to your page Settings>Edit Page>Templates>Choose a Template. Currently, there are Standard, Restaurant, Non-Profit, Politician and more!
There are many tools like BuzzSumo and SocialBakers are out there which can help with competitor analysis and their content engagement stats.  Once you have modified the look of your page, it is time to apply some marketing tips!
Marketing Tools and Tactics on Facebook
In layman terms, if you are a marketer, being on Facebook is unavoidable. Your marketing strategy will have a great impact if you combine the right mix of creativity and innovation. However, some marketers find it tough to reach their target audience in the ocean of accounts on Facebook. For starters, here are some of the most effective marketing tactics to deploy as a brand on Facebook:
Brand Page Management
This is where you chart your own territory on Facebook. Your page will be the face of your brand on Facebook. Once you have the page, make sure it runs according to your brand guidelines, as followed on other channels like a website, offline platforms and other social mediums.
The use of images and videos is very important for any brand on Facebook. It is something you can't compromise on because 43% users would like to see more of this content on Facebook.  Videos (63%) alone have surpassed blogging (60%) as the primary social media marketing asset. Other ideas include hosting Giveaways, introducing Facebook-specific Promotions, upcoming sale Announcements, etc.
Boost Posts
If you want to extend your reach beyond the current follower base on the Facebook page, you should boost posts. It is a pain point that the organic reach of brand pages has dropped significantly, so it is probable that 52% times people won't see your post when you publish it.
Facebook Ads
Your aim should be to reach a wider audience when you have something important to say. More than 4 million advertisers use Facebook to publish ads. Advertising on Facebook is easy, but not effective because of wrong targeting. You will be able to run the perfect ad when you know your target audience, their demographics, age group, and other important preferences.
Community Building
Yes, advertising is great, but have you thought about the regular followers who love to engage with the Facebook page? One of the best community building features is to create a Facebook Group and link it with your page:
You can make your page as your group admin. Here is how you can do it:
Add the 'Groups' tab to your page by going to Settings>Edit Page>Add a Tab > Select Groups
When the Group tab shows on the left menu on your page, click on it
Click 'Create Group' if you want to create a new group
Click 'Link Your Group' if you already have a group that can be linked
The groups will show up on your Group tab on the left menu
You can post in your Group as your page. Just choose your page as the poster!
You can also react, comment and reply to posts in your group as the page
This tip works well for any page on Facebook, because you educate your audience and subtly market your product/services at the same time.
The importance of Creating Engaging Content on Facebook
Content collaboration is a marketing tactic that improves the quality of your content and increases traffic in a fun way. Collaborations add a unique twist to your usual content drill, by adding a new splash of color to your usual posts/articles. Collaborating with people outside your bubble helps your brand reach new heights of success. Here is a visual representation of this tactic: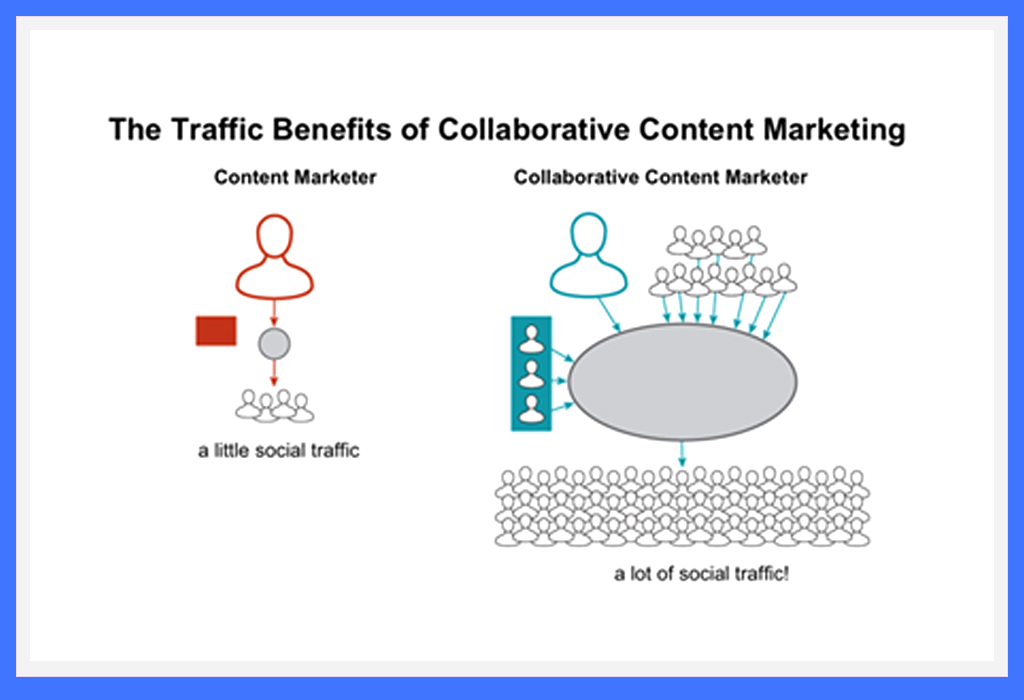 Source: Orbit Media
Publishing posts every day becomes a little tough for someone who needs the inspiration to spark more creativity. Influencers and existing followers are the perfect people to collaborate with and produce great content that resonates with both of your target audience. For example;
Employee perspectives: Many companies share 'a day at xyz' posts from their employees. This kind of content shows how your company or institution is a fun place to work and it also humanizes your brand. You can also have a single post where your employees can share their perspectives in comments.
Case studies: you can collaborate with your customers to produce case studies on how you helped solve an issue or fulfill a requirement. You can include success stories, numbers and anything that shows your collaboration in a positive light.
Live sessions: Facebook Live can help you provide expert analysis on anything related to your industry. The Live session incorporates comments and feedback in real-time, which can be a good way to engage with your audience.
Contests: you can hold a contest in collaboration with another brand and both parties can enjoy an increase in fans/engagement. Contests include quizzes, giveaways and other fun activities that make people interact with your pages.
How Influencers and Creators generated content can help businesses
Paid social ads are undoubtedly a great way to extend your reach, but social media influencers from Pakistan can help you grow faster with the added benefit of cost reduction. In 2019, we expect more brands to partner with influencers and become more popular by the power of the people. The idea of using Facebook influencers for your brand is the same as any other social medium.
Influencers can help in creating creative content that can be used by the brands on their official
Facebook pages and they can also exercise the different paid promotion options provided by Facebook on the content generated by the content creators. Modern content creators take content very seriously and they put all sweet and spice in their content that goes miles.
The following can be some interesting content types creators can help out with.
Photos
Videos
Blog Posts
How-To's
Reviews
Experiences
Social Coverage
Live Broadcast
How to start an Influencer Marketing Campaign on Facebook
Haven't launched your Facebook Influencer marketing campaign yet? We have got the toolkit for marketers that can help them initiate the process:
Plan a Campaign
The latest Facebook algorithm is definitely pointing out to a future where pay-to-play mechanism will gain pace. While 'free' tactics are said to take a backseat, brands are getting creative with their influencer marketing campaigns. Why pay a heavy price on ads when you can invest in an influencer collab for an upcoming campaign?
Planning a campaign is not rocket science. Sit down with your team and decide why you want to run a campaign?
Is a sale coming up in your clothing store? Are you rebranding? Introducing a new product? This is where you start thinking.
Define KPIs
When creating any influencer marketing campaign, you have to begin by deciding a few goals. You cant start out by saying that you want to 'engage more people' or 'grow your brand'. Brainstorm with your team on what's the main goal behind engaging influencers for a campaign.
The best way to do this is by defining the Key Performance Indicators or KPIs for a campaign. The KPIs can be anything- from engagement rate on your Facebook page to conversion rates. Make sure you are defining realistic and achievable targets for your team and the influencers.
Find key Influencers in your niche
This is the part which will define the success of your campaign. The goal is to look for the right Pakistani Facebook influencers to partner with. Bradri has the fastest growing community of Pakistani influencers from every niche that would be willing to partner with you on the next big digital campaign in Pakistan!
If you want to find the right influencer, here is a list of things you can follow:
Relevance: are they working on the same niche as you? For example, partnering with a lifestyle blogger is a good idea if you are a clothing brand
Influencer Background: what are the past accomplishments of this influencer? For example, if you are an educational institution, you can partner with someone who has been a teacher in the past or have worked on a similar initiative
Authenticity: are their followers real? Don't go for influencers who only produce click-baity content.
Track record and previous engagement analysis: don't invest in a person whose post engagements won't help boost your campaign. You can also ask the influencer for their current engagement metrics.
Reach out and Sign-up Influencers
Now that you have the list ready, it is time for outreach. Make sure you keep a direct approach, create a good first impression (very important) and make them feel excited about the opportunity that's coming their way.
Keep in mind that some influencers will say no. Don't force people to work with you. When you hear back from an influencer, the next step is to determine the dynamics of your work and define the process of your campaign.
Pricing and Payments
The hard work on content and the time spent by an influencer does not come for free. Some people do it as a profession, so you have to offer enough compensation to these individuals. Once you hear back from the influencer, decide on the mode of compensation and make sure both parties come to a mutual agreement and decide to move on with the project.
Agreement and Terms
Once you have explained the dynamics of your campaign, bind the agreement in a written contract. Most influencers send their contracts to agencies or brands. Formal agreements help both parties stick to the plan and erases any confusion. There have been many accounts of Pakistani influencers taking their complaint on their profiles about brands that just don't pay. Don't be one of those brands, because it tarnishes your reputation in front of the target audience and your competitors.
Track Performance and Optimize
Analytics are essential in calculating the outcome of a campaign. It is important to find out the numbers, to see the success rate of your Facebook campaigns. Performance optimization involves working with analytics, seeing what works and what doesn't, and perfecting your Facebook marketing plan.
If you want to measure the combined influence of a campaign, the techies at Team Bradri will be happy to help you find out key metrics.
Some Ideas  and Examples for Influencer Marketing Campaigns on Facebook
Facebook Live
Facebook Live is a tricky thing to do, because Live videos can't be tailored to be 100% perfect. However, you can pull them off by perfecting the set and create an environment where the session can take place in the best way.
Parhlo is a popular (almost household) name on Facebook, with their focus on viral content that is the most share-able. The company utilizes Facebook Live very often, by hosting shows that talk about everything that is trending. One such show is called 'Baaji On Point'.
While the people at Parhlo are very creative, they can't master hosting a session during their busy schedules. So naturally, the company collaborated with an influencer who was already popular in the market with similar content. Sidrah Hafeez from UAE hosts the 'Baaji On Point' sessions for Parhlo, and is a celebrity on the popular app musical.ly.
Inviting a familiar face to host their show helps Parhlo maximize their reach and have some quality content by someone who is highly skilled at their job.
Video Content
We all know Jazz as a mobile network operator. It is one of the oldest networks in Pakistan, and now the largest network after the merger of Mobilink and Warid. The company has always focused on walking along the newest trends in digital marketing world.
Here is how Jazz became the top Pakistani brand on Facebook last December:
Jazz ended the year in style by kicking off their influencer marketing campaign. They sought out the biggest social media influencer in Pakistan, Eva Zubeck, to collaborate on what will become a series of travelogues across Pakistan.
Now, if you don't know Eva Zubeck, you can read about this Polish content creator's journey across the world and her massive share in uplifting the image of Pakistan through her social media platforms. As we hinted last year that excitings time are coming up for Pakistani travel bloggers and influencers, seems like Jazz took some notes.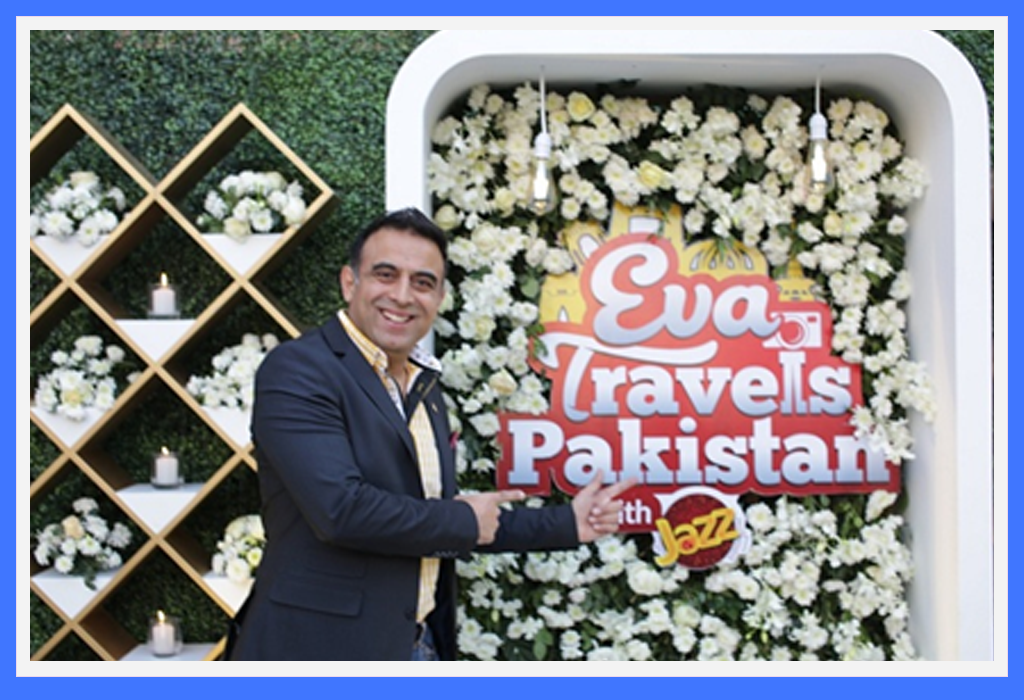 Jazz announced their campaign 'Eva Travels Pakistan with Jazz' (hashtag JazzxEva) in which they will take Eva around our beautiful country and capture the amazing process. Everyone loves Eva on YouTube, Facebook and Instagram. It's safe to say that she's become a household name in Pakistan, so it was time that a Pakistani brand stood up and took the opportunity to collaborate.
Here is what Kazim Mujtaba, the Head of Marketing at Jazz had to say about this partnership:
"At Jazz, our tagline is, "Dunya koBataaDo" which aligns perfectly with the need for such a show. Even before this partnership, Eva had been promoting a more positive image of Pakistan which was one of the reasons why we chose her to be the face of the show. – Source
The results are clear. Since the announcement of the campaign through their main profiles and micro influencers, Jazz gathered 745,963 unique engagements on their Facebook page in December 2018.
Moreover, this became the most popular post by Jazz on Facebook in December 2018.  Who doesn't like Free data all night? Most of the credit goes to their influencer marketing campaigns because influencers take your brand to places!
Follow the trends
Karachi Eat Festival is one of the most visited food festivals in the city. This year, brands were ready to seize the opportunity of riding the wave and using influencers and food bloggers to promote their stalls. Dipitt took their reach to the max by inviting George Fulton, who is going to launch his video log called 'Desi George', to collaborate. Shaniera Akram, who has now become a celebrity in Pakistan, joined George in this expedition. Dipitt took full leverage of George and Shaniera's influencer to promote their cool range of sauces.
You can see their saucy challenge video, which was shot at the Karachi Eat Festival:
The video has gathered 304,208 engagements so far. You can also get creative and use trends and popular events to market your brand.
Pakistani Industries those are shaking it up
While Facebook is tweaking its influencer search tool, you can work on your campaigns and look for influencers who can spread your campaign message in the best way possible. Here are the top industries in Pakistan with a Facebook presence:
Final thoughts
Pakistani brands and businesses are eager to figure out ways to engage with local audiences. As Facebook is the most dominant social media channel in Pakistan, it is a no brainer to target audiences on it. Influencer Marketing Campaigns on Facebook has proved to be an effective means globally and it is also gaining pace locally. The best part is that businesses don't need to have a gigantic budget to execute such campaigns.
We hope the information above help you in executing your Facebook content strategy and engagements with social influencers and creators. If you are reading till now, you must have gotten a sound knowledge of the process as it has evolved a lot since inception. However, if your business still needs help establishing and executing digital and influencer campaigns, give us a shoutout as we are here to help.
Read: How to become a successful Social Media Influencer in Pakistan?