Pakistan Super League is undoubtedly the biggest sporting event of the year, having millions of dedicated fans from home and abroad. Ever since its launch in 2015, the tournament has become bigger and better every year. PSL has evolved into a powerful brand, one that is here to stay. Naturally, a lot of companies in Pakistan now want to become associated with this tournament in one way or the other.
Last year, apart from TV viewership, a record number of hits were recorded by Cricket Gateway, the official digital streaming platform. The first match alone was viewed by 650,000 viewers in just 4 hours. After 15 matches, the number had exceeded to 8.2 million! That's why the sponsors and ambassadors love to take the stage in PSL.
Preparations have been in full swing since the last few months leading to PSL 2019, and a lot of focus goes to utilizing the power of influencers and sponsors to go that extra mile. Some brands renew past partnerships while others look for the perfect opportunity to join the bandwagon. With the growing trend of brand ambassadors, PSL has become an amalgamation of cricket and influencers from showbiz and social media.
We have been keeping a close watch on all the proceedings, so here is a list of all the brands and mega influencers that are making PSL 2019 more powerful (in no particular order):
Mega Influencers and Brand Ambassadors
Pakistan Cricket Board
The league itself is going to be represented by big names, starting from the opening ceremony. Pitbull is going to perform in the PSL 2019 opening ceremony. Since Pitbull has a huge fan base, it propels the name of PSL to the western horizons as well. Marcia Barrett of Boney M will also perform in the ceremony.
Fawad Khan is a household name, and he has also sung the PSL anthem (with Young Desi), which makes him a mega influencer for PSL. The 90's sensation 'Junoon' featuring Ali Azmat, Salman Ahmad and Brian O'Connel will perform in the PSL 2019 opening ceremony. Aima Baig and Shuja Haider of Coke Studio fame are also going to perform.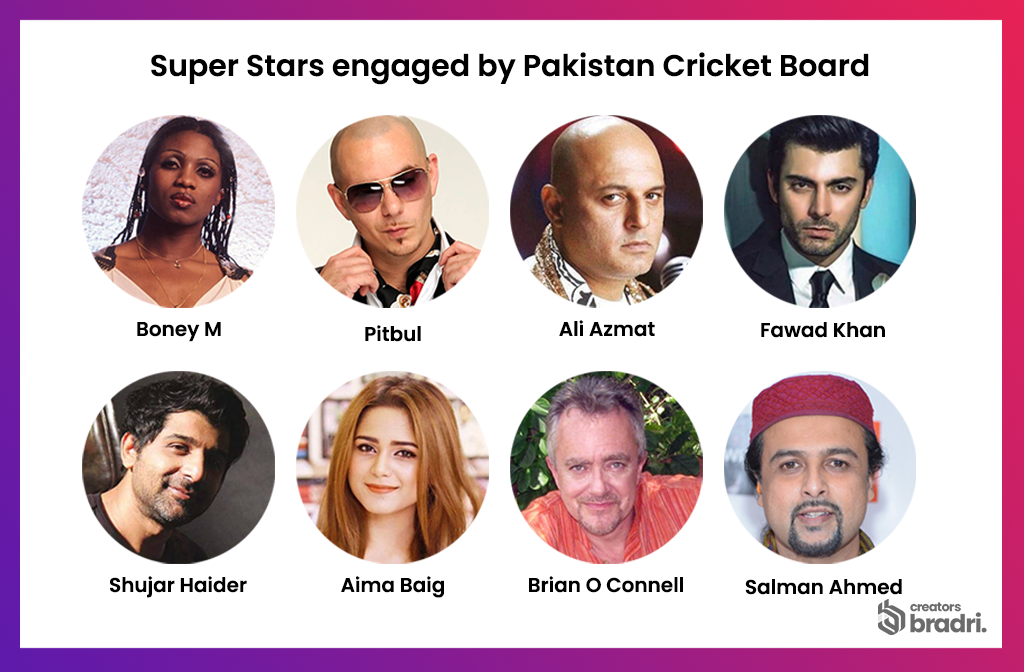 Karachi Kings
The team from Karachi, owned by Salman Iqbal of ARY Network has a star-studded roster that supports PSL. In PSL 2019, the brand ambassadors for Karachi Kings are celebrities who grace our TV screens in dramas and movies quite often. The best thing about signing mega influencers is that they provide your brand that extra mileage through participation, coverage on TV and their personal social media profiles.
The Karachi Kings roster includes
Faysal Qureshi
Waseem Badami
Fahad Mustafa
Iqrar ul Hassan
Areeba Habib
Farhan Saeed
Urwa Hocane
Nida Yasir
Amna Ilyas
Mawra Hocane
Sonya Hussain
Humayun Saeed
Adnan Siddiqui
Shehzad Roy
Kashif Abbasi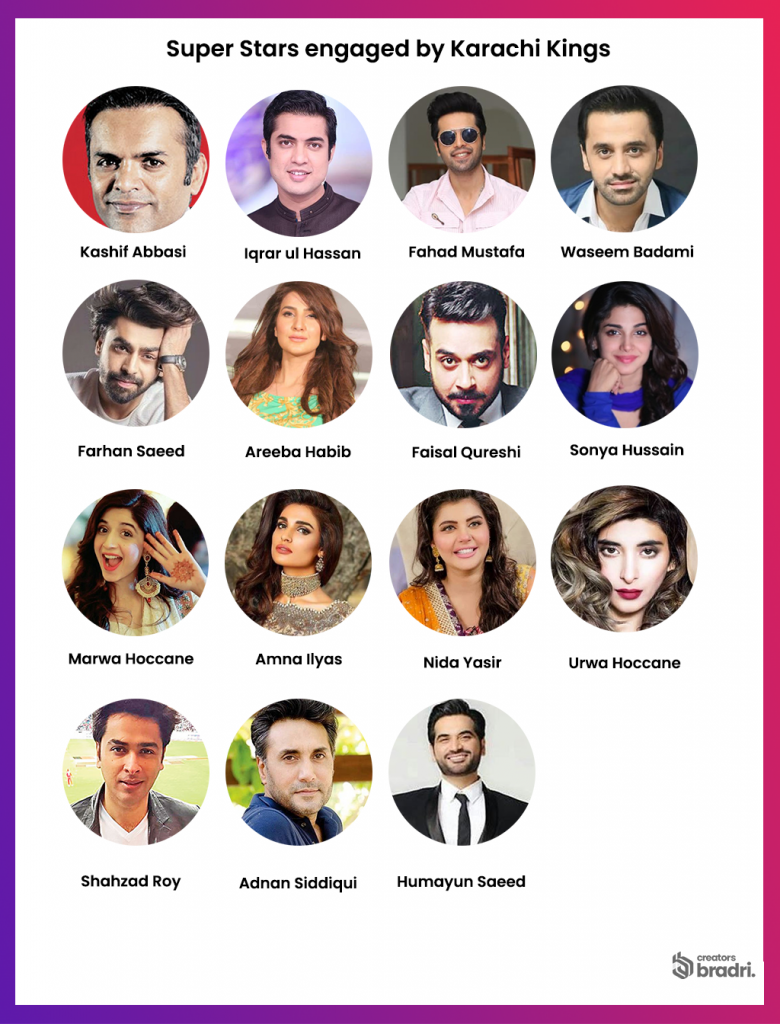 Peshawar Zalmi
The team of 'Pukhtoons' as they say, always comes up with something new each year. This year, Peshawar Zalmi have brought Mahira Khan onboard as their ambassador. It's a good call because post-Raees times have elevated Mahira's name in India as well. PSL gets a lot of attention in India, and having a mega influencer from Pakistan like Mahira Khan increases the talkability of Zalmi brand.
Gul Panra and Zeek Afridi have sung the Zalmi anthem this year, so it is also a signing that touches the heartstrings of many who speak pushto in our country and abroad. Hamza Ali Abbasi is also a Zalmi ambassador this year.
Other mega influencers include:
Sahir Ali Bagga
Khumariyan the band
Sana Javed
Eva Zubeck
Official Vlogger
Zalmi has also brought the popular vlogger from Pakistan, Ukhano, as their official vlogger. Ukhano also speaks pushto and his content is appreciated all over Pakistan. His YouTube channel has 146K+ followers, so being associated with Zalmi is a win-win situation for both parties. It is also important to mention that Islamabad United started the trend by working with Irfan Junejo in PSL 2018. Islamabad United also proceeded to win the tournament, which gave both Junejo and United a great boost through content and relevancy during execution.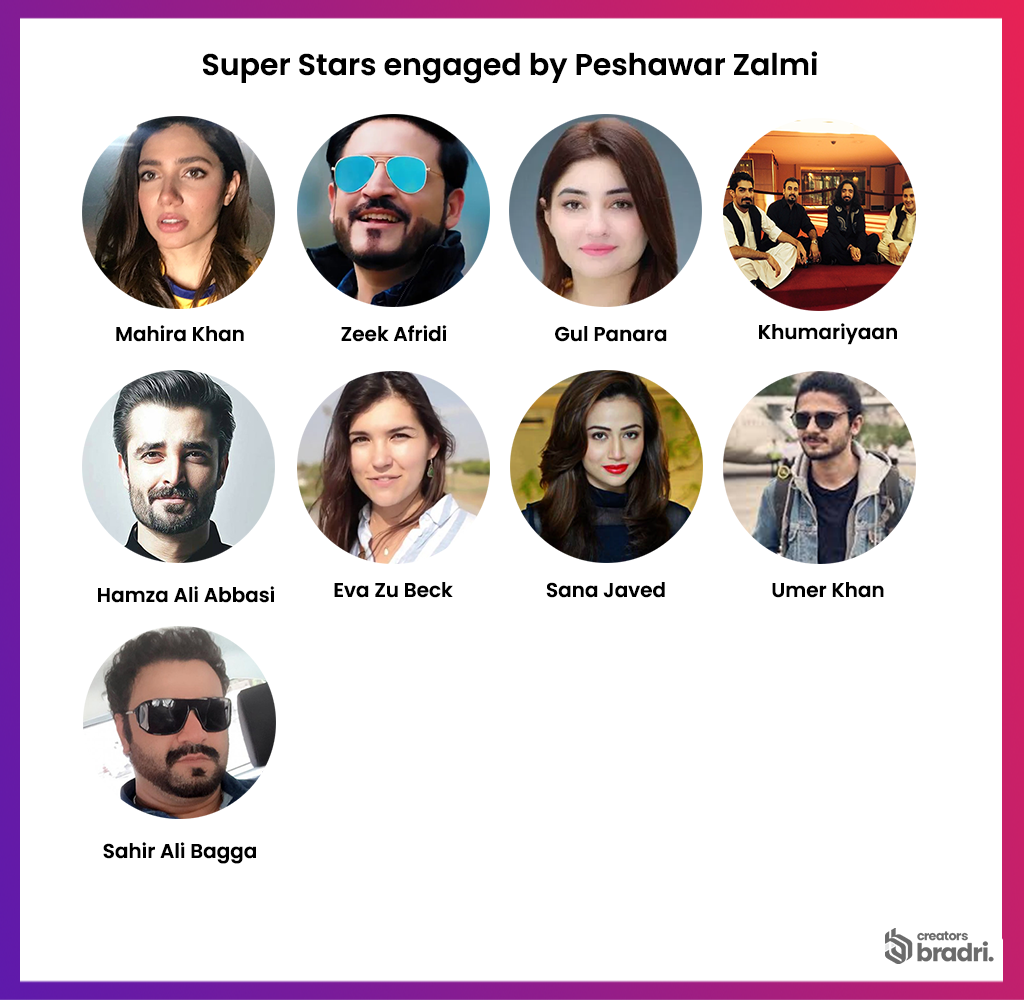 Quetta Gladiators
The Gladiators have signed Maya Ali as their official ambassador. Maya was their ambassador last year as well. Moreover, the team also has an official mascot called 'Gladdy' who represents them on the ground and social mediums all around the year. Having a mascot is good for sports teams, because it opens many doors to exciting partnerships and brand recognition.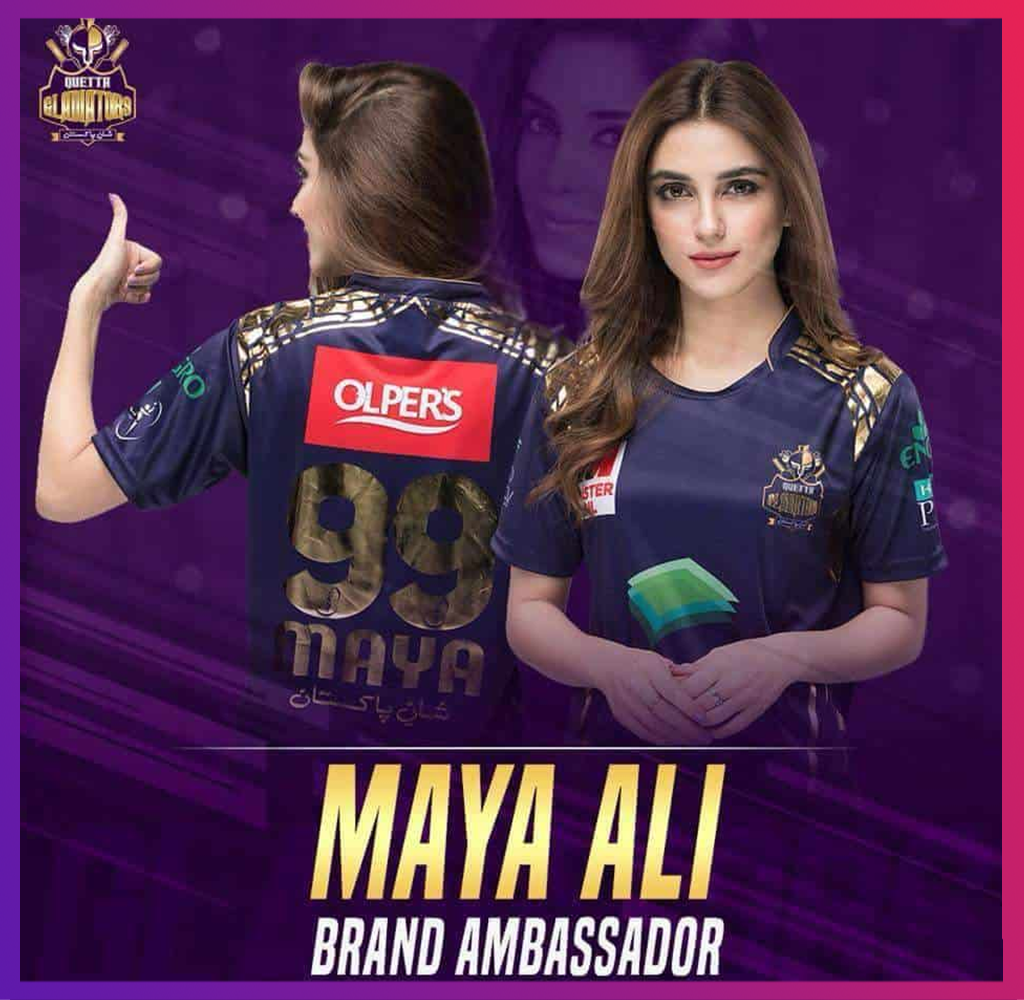 Lahore Qalandars
The team of Lahore already has Fawad Rana, who seems to take over Pakistan with his happy-go-lucky demeanor each year. His team has never won PSL, but his photos always trend in memes and videos. Other influencers include:
Mubasher Lucman
Mohammad Ali Josh
Rana Majid Khan
Ali Mir
HSY
Shaan Shahid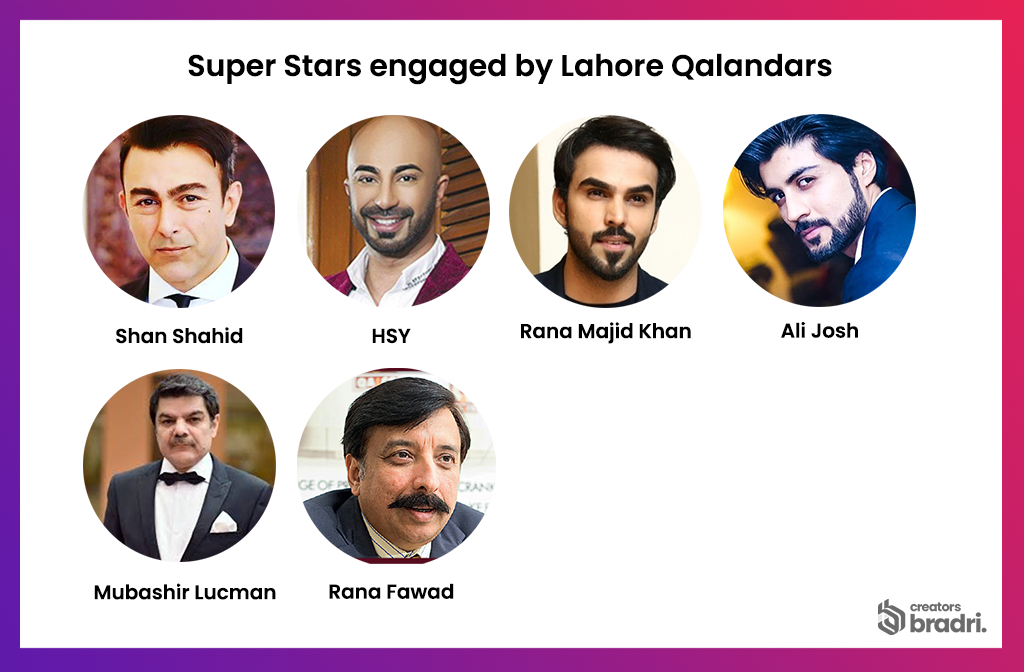 Multan Sultans
Multan Sultans entered last PSL as the sixth team. The newcomers had many influencers like Neelam Muneer and Javed Sheikh last year, but this year it seems to be all about their players. They aren't losing much by missing out influencers because the Sultans roster itself includes megastars like Shahid Afridi and Shoaib Malik. The official anthem is sung by Ataullah Essa Khelvi, a celebrated musician of Pakistan. Team's owner Ali Tareen, son of Jahangir Tareen, also brings his popularity to the 2019 edition.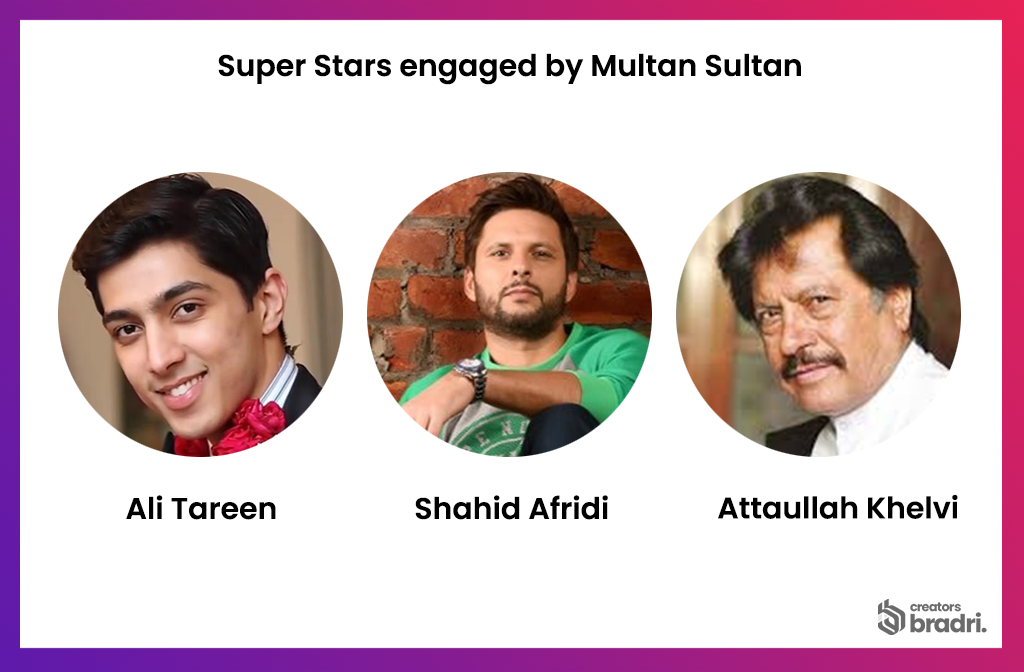 Islamabad United
Islamabad United won PSL 2018 and seems like the defending champions are not taking influencers onboard this year. United have a mascot too, called Sheru. The team logo includes a lion, so 'Sheru' is a perfect mascot for Islamabad United. You can spot Sheru promoting the team on the ground during matches.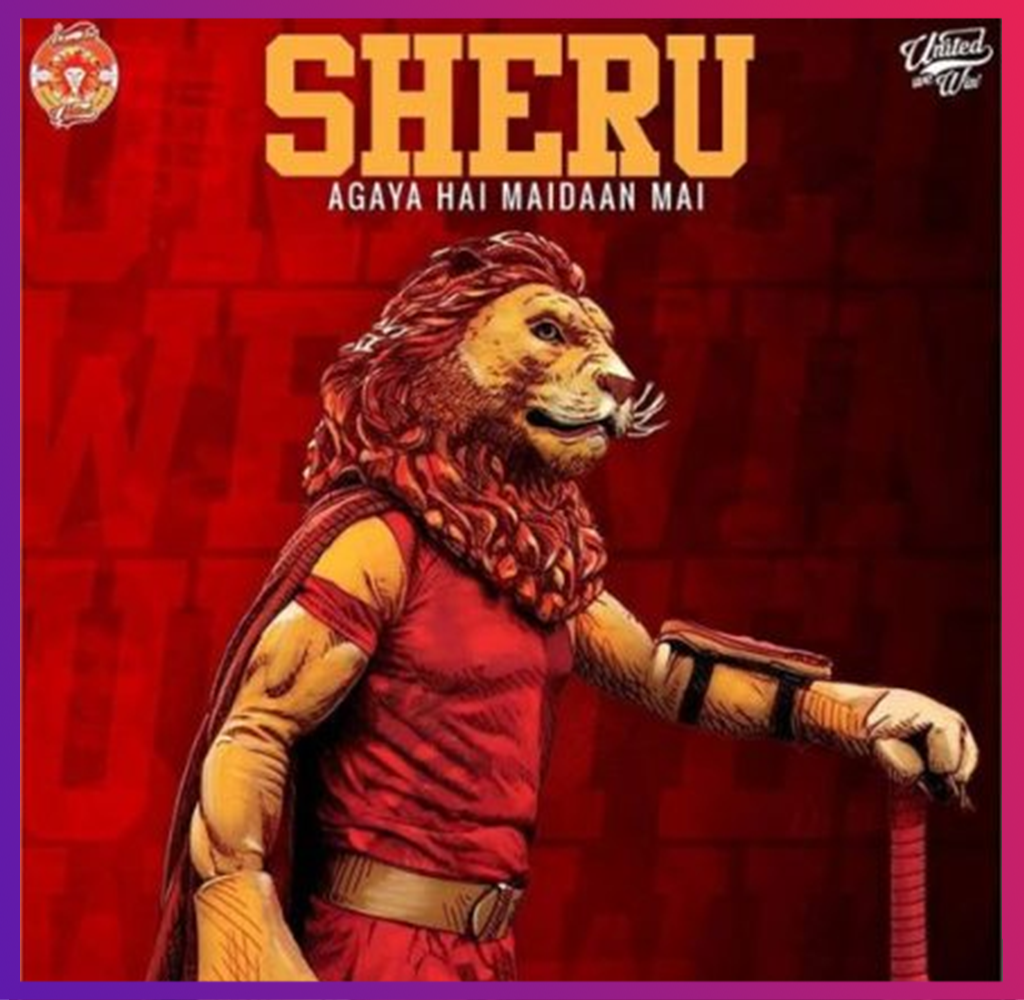 ---
Brands associated with Pakistan Super League 2019
Here are the brands that make PSL possible. Their inclusion is a promising sign that PSL is going to touch new heights of success this year and in the future.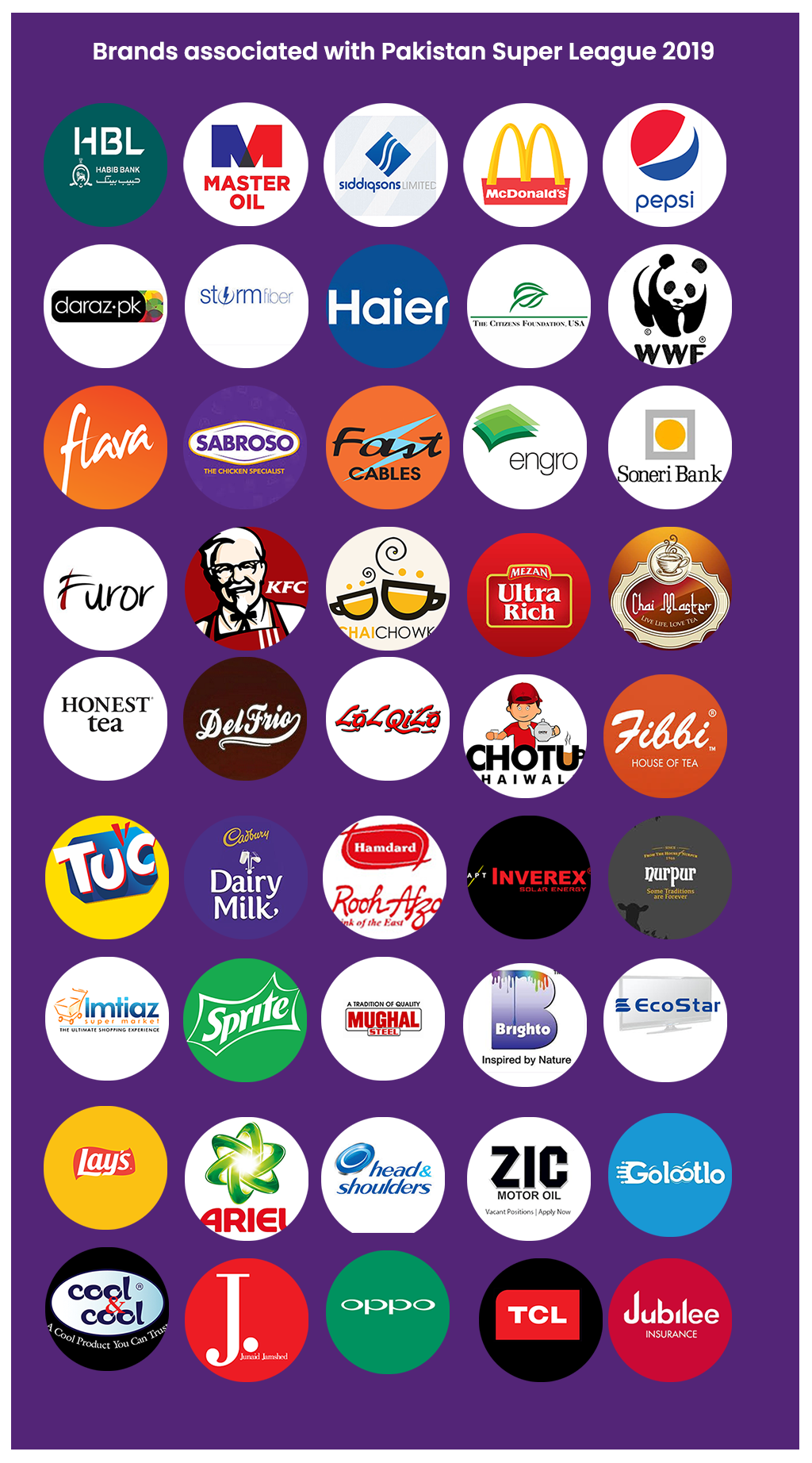 Habib Bank Limited
You will always find that hashtags look like "#HBLPSL" and social media posts on PSL pages also call it HBLPSL because Habib Bank Limited is the official sponsor of the league for the fourth year in a row. The amount in the first three years is said to be $5.2 million dollars, and this year, the estimate is $14.3 million dollars.
HBL's own slogan of 'jahaan khwaab, wahab HBL' (HBL is where dreams are at) perfectly resonates with this collaboration. The CEO of HBL thinks that "PSL has come a long way, and HBL is proud to have partnered with a world class league. As we gear up for the next three exciting years of 'HBL PSL', we look forward to providing more opportunities to the young cricketers, to enable their dreams of becoming international cricket stars." – Source
Jubilee Insurance
Jubilee Life Insurance has become a major sponsor of PSL since last year, with their sole focus on sports events around the country. Last year, Jubilee took Bilal Ashraf to PSL where he used to host digital programs. After a successful first year, the company is back at it with a renewed partnership for PSL 2019.
OPPO Mobile
Oppo got associated with PSL last year as one of the main sponsors, with Hassan Ali as their main ambassador. The CEO of OPPO Pakistan said on the launch ceremony that "We support youth and it is our aim to promote and develop everything that the youth is interested in and involved with. Cricket is not just a game but a kind of culture for Pakistan's youth offering a unique combination of sports, glamour and entertainment all together. With this tie-up with PSL and young Pakistani cricketer Hassan Ali, I am positive that Oppo will come closer to the hearts of millions of cricket loving youth in the country." – Source
The partnership is a prime example of influencer marketing as well as using a sporting event to grow as a brand.
TCL
TCL is one of the world's top three TV brands, and this year they have collaborated with Peshawar Zalmi as sponsors. Their main focus is on the brand value of Peshawar Zalmi as a sporting entity. Since TCL has signed with Neymar Jr. as their Global Ambassador, the partnership with Peshawar Zalmi is an excellent way to promote their inclusion in sport while remaining relevant to the local audience.
TCL did a pilot project with Zalmi last year, and they had a fantastic experience. The Marketing Manager of TCL Pakistan said that renewing this partnership is "a great opportunity to delve into sports marketing and this year we are now expanding our partnership on to a much larger scale. As a brand we are highly invested in sports marketing and with Peshawar Zalmi being the biggest sports entity in the country, you can really look forward to some very exciting new things from our partnership."
The list of brands that sponsor or work with PSL and its franchises is long, but awesome. Here goes:
Junaid Jamshed
Cool and Cool
Golootlo
Zic Motor Oil
Pepsi
Head and Shoulders
Ariel
Transgroup ITW
Golden Ribbon
Pink Ribbon
Lays
Ecostar
Brighto Paints
Mughal Steel
Scene On
Sprite
Imtiaz Store
Nurpur
Inverex Solar
Rooh Afza
Dairy Milk
Tuc
Fibbi House of Tea
Chotu Chaiwala
Lal Qila
Del Frio
Tea Be Honest (TBH)
Chai Master
Mezan Tea
Chai Chowk
KFC
Furor
Soneri Bank
Master Oil
Engro
Siddiqsons Group Ocean Marina
Fast Cables
Sabroso
Flava Milk
WWF
Citizen's Foundation
Haier
Stormfiber
Daraz
McDonald's
RD
JW Forland
Last word
It is safe to say that PSL has developed an ardent fan following, and people are always eager to learn more about the latest developments. PSL also brings color to local markets where clothing retailers want you to join in the celebration by buying team merchandise and other items.  Ever since its successful execution in Pakistan, brands are now aware that this platform holds immense potential for them to grow.
This is our update from all the brands and ambassadors until the tournament enters its later stages. We will be keeping an eye on all the ads, promotions and digital activations throughout the month-long league and dissect the dynamics for your perusal. Stay tuned to find more about the campaigns that made it big during PSL 2019. See you on the other side!