Snapchat is one of the most popular names you hear when you talk about social media marketing and reaching a young audience. It is an app where you can send videos and photos to other friends and groups, as opposed to the photo+text format of other social media apps.
There is a long list of social mediums that a marketer should be using, and it is a little tough to keep up with a new photo, video or text platform to promote your business.
Why your business should be on Snapchat?
Snapchat has 188 million daily active users, and a large chunk of these users are based in Pakistan and India. Moreover, 45 percent of Snapchat users are aged between 18-24, so if you are a brand targeting youth or Millenials, you must switch to Snapchat.
If you have a budget for social media advertising, you can explore Snapchat because of its audience targeting and variety of Ad formats. Snapchat did a survey which revealed that Snap video ads garnered twice the visual attention compared to Facebook and 1.5 times more than Instagram and 1.3 times more than YouTube. Video storytelling is Snapchat's claim to fame anyway.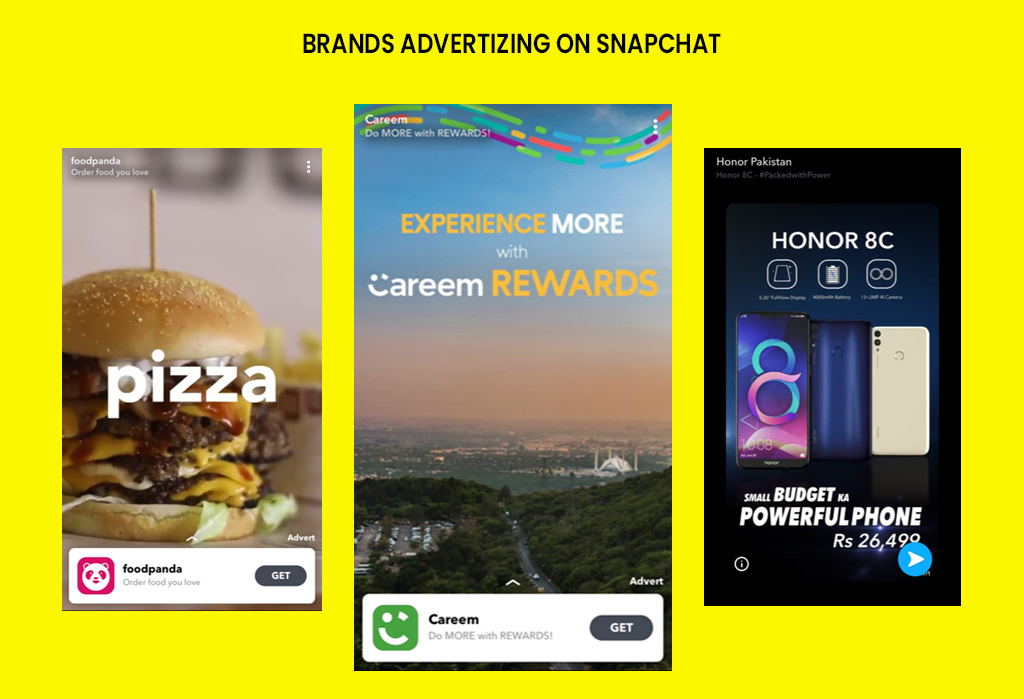 However, there is a lot of skepticism about Snapchat marketing in Pakistan, mostly because marketers in our region can't access the ad platform. Madvertising quotes that 1.6 million Pakistanis are on Snapchat, and measures have been taken to reach this audience.
First, here is how you can sign up on Snapchat as a brand:
How to sign up
You can sign up on the platform by using your laptop/computer or through a mobile device. We have listed the steps for both.
From a computer:
Go to this page
Enter your name (we suggest business's name) and a username. You cant change the username again, so choose wisely. The business name and email address will be shown publicly to other users
Choose a password
Enter an email address (the one linked to your business accounts)
Verify the account through Snapchat on your phone
If you want to advertise, enter the username and password to access Snapchat Ads Manager
From a mobile device:
Open the application
Tap on the 'Sign Up' button
Enter your name and date of birth (you can enter business details here)
Create a username. Choose wisely, because you can't change the username
Choose a password
Enter an email address
Enter your phone number and verify it through the code sent as text
If you want to advertise, enter the username and password to access Snapchat Ads Manager
Once you have created an account as a business, you have officially signed up as a Business on Snapchat. Congratulations!
Creating a campaign on the Platform
While marketers around the world can access the self-serving platform to launch their ads on Snapchat, this service is currently unavailable for Pakistani users. However, Jawwad Jafri, country manager for InMobi Pakistan has figured out a solution to help businesses launch ads on Snapchat.
For example, Jawwad has collaborated with GroupM to run campaigns for GlaxoSmithKline, Nokia, and Nestle. InMobi's network also has access to over 80,000 apps. So, you have to reach Jawwad at Jawwad.jafri@partners.inmobi.com to discuss partnerships and Snap ad formats like Top Snaps and Custom Filters.
Here are some examples of Snap Ads which pop up as the user is watching stories:
Types of content on the social network
Even if you don't invest in an advertising campaign, you can explore the many features in Snapchat for free. This includes editing options, filters, customizations and ways to engage with your audience.
Images: you can post images on Snapchat, but make sure the images are close to your branding guidelines. This is where good design will prove helpful. You have the option to upload a photo from the camera roll or click a new photo. Moreover, Snaps are best displayed in portrait format.
Videos: you can share videos on Snapchat for up to 10 seconds long. Videos can also be edited like images on Snapchat
Snap messages: snaps are the messages found on the left hand from the main screen. These snaps can also be sent to users and they expire after one view
Stories: stories are displayed on the right side from the main screen. Stories are shared with your followers and the easiest way to mass distribute content to your audience
Snapchat Marketing: The Verdict
A huge fan following of Snapchat is using the platform daily to document their lives and catch up with their friends and favorite influencers. So, if you are a brand that is willing to shift to Snapchat, you should make the most of this opportunity because it is still a competitive edge compared to the people who are still trying their luck on Instagram or Facebook.
Hopefully, Pakistanis will also be able to access the Snap ad platforms very soon and the third-party arrangements will be eliminated.