Social Media Marketing landscape in Pakistan and why a marketing guide is important for businesses?
Pakistan is one of the fastest growing nations on the internet.  With over 44 million internet users, it has over 22% internet penetration in 2018 that has grown exponentially with the introduction of 3G and 4G services in Pakistan. Furthermore, about 32 million people are active social media users which explains why Pakistani brands are eager to promote themselves on social media. Media Guide 
The decision of choosing social media channels for marketing your brand and business depends on many variables. Mostly, it depends on the type of business and the products a company has to offer.  Social media can be used to target different audiences and segments, for example, businesses opt to promote themselves on Snapchat to target teenagers and GenZ mostly.  Additionally, the selection of a social media channel also relies on the promotion and campaign designed by the brand. Media Guide 
In this post, our aim is to discuss and break down a method that Pakistani businesses can adapt to take their Social Media Marketing campaigns up a notch. This can be done by discovering and evaluating the right social media channels and creating compelling content that can grow organically. Media Guide 
Topics covered in the article:
Things you need to know before starting out

Popular Social Media Platforms in Pakistan

How to select the right social media channel for your business

Create and optimize content for the selected social media platform

How to create and optimize content for Facebook

How to create and optimize content for Instagram

How to create and optimize content for YouTube

How to create and optimize content for Pinterest

Some examples of how Pakistani Businesses are using social media marketing
---
What do you need to know before starting out?
Before selecting a social media channel, ask the right questions and classify your business and the kind of campaign you would like to execute:  Try to get answers for the following questions:
Before you can select an apt social media channel for your brand, ask the right questions and classify your business and the kind of campaign you would like to execute. Try to get answers for the following questions:
What is your business type?
Here are some general business categories from Pakistan. Select the business type that suits your business the best:
Independent Business and Consultancy
Most of these businesses are nuclear businesses and are usually location based (e.g. A clothing shop in Gulshan, Karachi).  Your business falls in this category if you belong to one of the following professions or businesses:
Doctor
Beautician
Boutique
Restaurant
Rental service
Consultant
Banquet Hall owner
Hotels & Resorts
Online Businesses
There is no denying the fact that online businesses are on the rise in Pakistan.  There are many different business categories popping up from the online business sector, which is primarily dominated by e-commerce.
E-commerce
Software-As-A-Service
Food Delivery
Technology
Call Centers
Media Distribution
Lead Generation
Promotion & Advertising
Online Services
etc.
Small-medium Enterprises
Small-medium enterprises are companies with an employee count ranging from 50 to 250. They might have an online presence and can function from multiple locations.
Offices with multiple locations

Chain of Restaurants
Small Hospitals
Salons

Multiple Products and Offering
Enterprises
Enterprises are large companies that have accessibility to a vast range of resources and markets.  Many Pakistani brands and companies can fall into this category.
Manufacturing
Wholesalers
Import/Export
Distribution
Financial Institutions
Education
Energy
Food Processing
Media
Multinationals Businesses and Brands
Multinationals companies have big budgets and they want to target the biggest consumer audiences on scale.  They usually use all available channels for marketing purposes.  Some examples of such companies in Pakistan are as follows:
Pharmaceuticals
Confectionary
FMCGs
Banks
Telcos
Airlines
Electronics
Vehicle Manufacturing
Chemicals
What are the goals of your social media campaign?
Brands define and design a marketing cohort by identifying and defining their desired goals and results that they would like to achieve from a particular campaign.  Social media campaigns are no different and they usually work in coherence with the overall marketing strategy.  It's nothing more than another marketing channel for businesses.  There can be endless goals and results a company would like to achieve, but for the sake of a well-versed argument, we have consolidated the social campaign's goals into the following types:
Brand Awareness
Companies would like their name to be famous in the market so that consumers can identify the brand and offerings of a company.  Entire marketing campaigns can be constructed around promoting awareness of a brand. Spreading brand awareness is important for any company at any stage of business tenure.
Following are a few tools that are useful for social brand awareness campaigns:
Video Ads
Photo Banners
Slideshows
Celebrity Endorsements
Product Reviews
DIY Tips & Tricks
Product Launch
The product launch marketing strategy revolves around a planned and scheduled sequence of events around the launch of a business/product/service with the end goal to make a big happening at the launch, attract traction and make as many sales as possible in a short time span.
Following activities are used by companies to execute this campaign:
Buzz Creation
Pre-launch Activities
Register Potential Customers
Warm-up Leads
Promotions
For any successful business, it is essential to keep promoting the business on a regular basis.  Regular promotions can influence consumers with their buying decisions.  Businesses need to persuade people to buy their products and services and build a lasting relationship that will keep them coming back for more.
The promotion strategy helps with this, and following are some tools used by brands for promoting their products and services:
Product Coupons
Sitewide Discounts
Limited-time offers
Competitions
Giveaways
Customer Engagement
Lead Generation
In this time and age, businesses want to know their customer inside out so that they can position themselves better and create relevant promotions to lure people to buy their products and services more.   Therefore, they use different lead generation tactics to create their own databases of existing and potential customers with their various attributes and classifications.
Following are a few tools companies used to build their databases:
Surveys / Quizzes
Whitepapers
Ebooks
Feedback
---
Popular Social Media Platforms in Pakistan
Social media in Pakistan has provided an opportunity for businesses to reach out the masses, especially, the younger generation as a majority of them are using the internet and are on one or more social media platforms.  People are learning the best way to utilize social media for their benefits and we are seeing a constant improvement and cultural shift w.r.t social media in Pakistan.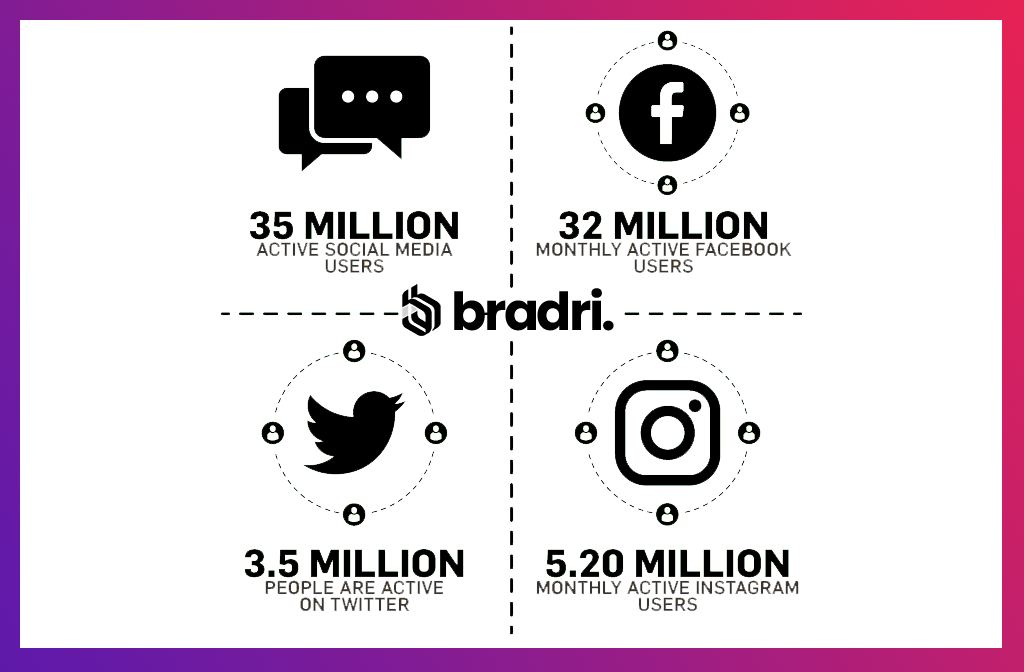 Facebook is the most vastly used social media platform in Pakistan.  With more than 92% of the overall social media usage share, it has been the darling of many businesses as they execute their major campaigns on Facebook mostly.
YouTube ranks 2nd with a meager consumption of 4% only and the remaining 4% is shared among Twitter, Pinterest, and Instagram.  It is surprising to see Instagram underperforming with less than 1% of the overall social media traffic share because you everyone you know seems to be on Insta right?
Social Media Traffic Usage from Pakistan in 2018
Facebook – 92% 
Youtube – 4.6% 
Twitter – 1.5%
Pinterest – 1.1%
Instagram – 0.018%
---
How to select the right social media for your business?
Business x Campaign x Channel
Selecting the best social media channel depends on the Business and Campaign Type as stated above.  When you identify these two things, identifying the social media channels will be a simple yet calculated decision.
Here is a matrix which shows best social media channels for the different type of businesses and campaigns: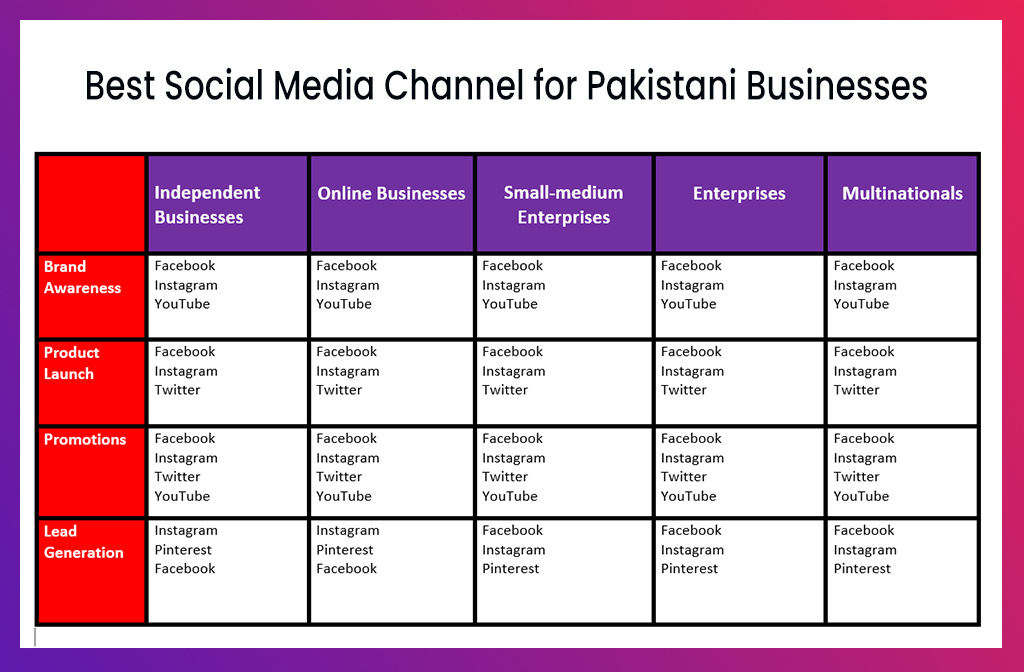 Once you have selected the right channels to help you execute the social media marketing campaign for your business, your next step would be to generate interesting and relevant content for that social media channel.  Each social media platform has its own content preferences, and businesses need to optimize their content for each channel to get max'd results.
Use the following guide to understand the different content types for various different social networks and how you can optimize your content for different mediums:
---
Create and Optimize content for the selected social media channel
This is how one can create and optimize content for Facebook?
Facebook is the most diverse social network out there, which supports the maximum number of different content types within one network.  Therefore it is essential to create the right mix of content that caters to your business and marketing needs.  As per the analytical data released by BuzzSumo, people engaged with video-based content the most on Facebook in 2018.
Furthermore,  Mari Smith – Facebook Marketing Expert has recommended the following content mix to be used on Facebook to get optimal results from your marketing campaigns.
70% Video Posts
20% Image Posts
10% Link Posts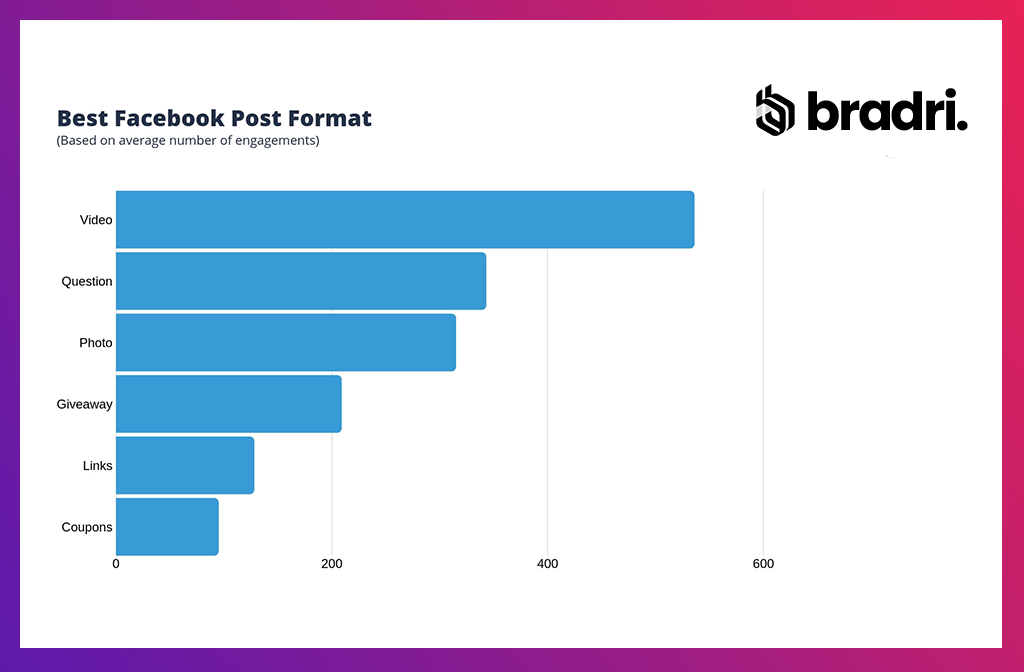 Also, businesses should understand the best days and time to publish content on their Facebook pages for better engagement.   Businesses should also consider following success rules for earning better engagements on their posted content on Facebook.
Engage by posting short videos
Post less but frequently
Use more relatable content
Search for Successful Posts
Ask Questions
Post for Shares Not Likes
Learn more about Facebook Marketing from this free resource provided by MOZ
The right way to create and optimize content for Instagram?
With over 1 billion monthly active users, Instagram is the fastest growing social media platform in the world.  However, as per the latest stats from Pakistan, the adaptation is relatively slow in comparison to other social media platforms.  There were around 4.7million Pakistanis on Instagram in April 2017, which increased to 5.2million in late 2018.
Instagram has been a darling to most Pakistani businesses lately and with many Facebook marketing tools directly integrated to the platform, the ease of use and adaption rate by businesses are relatively seamless.  It's a predominantly visual platform with pretty looking photos and videos which is now further boosted with Snapchat like stories features added to it.
For great success on Instagram, we suggest using all the features provided by the platform.  Create beautiful stories, share photos on the newsfeed and encourage users to engage by commenting on your posts.  Use hashtags and location pinning services to help attract new followers and enhance visibility as Posts with a location get 79% more engagement.
Furthermore, Instagram also introduced IGTV last year and brands and businesses should certainly consider it for their marketing strategy in 2019.
Here are some fun facts Pakistani Businesses should consider before posting to Instagram:
More than 50 Billion photos have been uploaded to Instagram so far.
7 out of 10 Hashtags on Instagram Are Branded.
Photos With Faces Get 38% More Likes.
Posts with at least one hashtag received an average 12.6% more engagement.
Instagram Users Engage More on Weekdays with Tuesday and Thursday showing most engagement.
50% of Instagram Captions & Comments Contain Emojis.
Instagram videos get 2 times the engagement of photos than any other social media platform.
The most popular hashtags on Instagram are #Love, #Instagood, #Me, #Cute, and #Follow.
Instagram influencers are charging up to $100,000 for a sponsored post.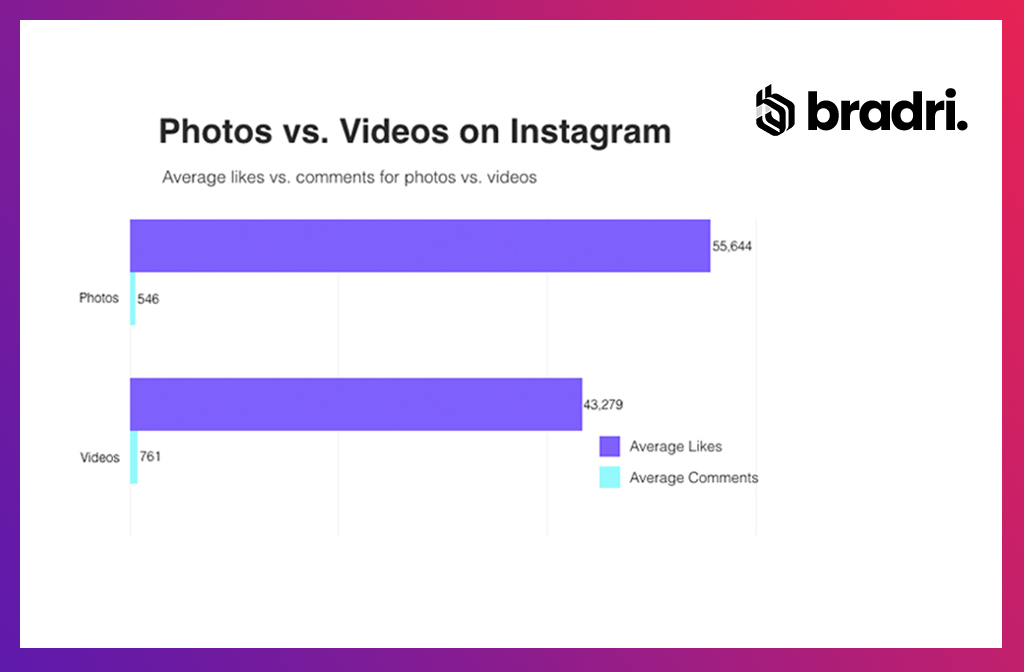 Consider the following key points to come up with the best content strategy for posting on Instagram:
Be Clear About Your Brand and Niche
Plan your content in advance
Create Content Themes
Choose Posting Schedule
Introduce Seasonal Promotions and Offers
Learn more about Instagram Marketing from this free resource provided by Sprout Social
How to create and optimize content for YouTube?
Google's owned YouTube is the second most consumed social media platform in Pakistan.  It is the largest video sharing platform around the world with the fastest growing user base.  Businesses are using YouTube for marketing purposes, but it only works if you know how to execute it correctly.
Businesses can do exceptionally well if they use the YouTube marketing gimmicks correctly, including keywords placements alongside the video title, description, and tags.  Long videos can provide value to businesses in the form of tutorials, how-to-use, Q&A and informational content that has been looked for by your customers on a regular basis.
The content strategy on YouTube can form an integral part of your social media marketing strategy.  It should be used to generate and send traffic to your main site when possible, as the platform is not built for a direct call to action nor does it provide any relevant tools.
marketing guide marketing guide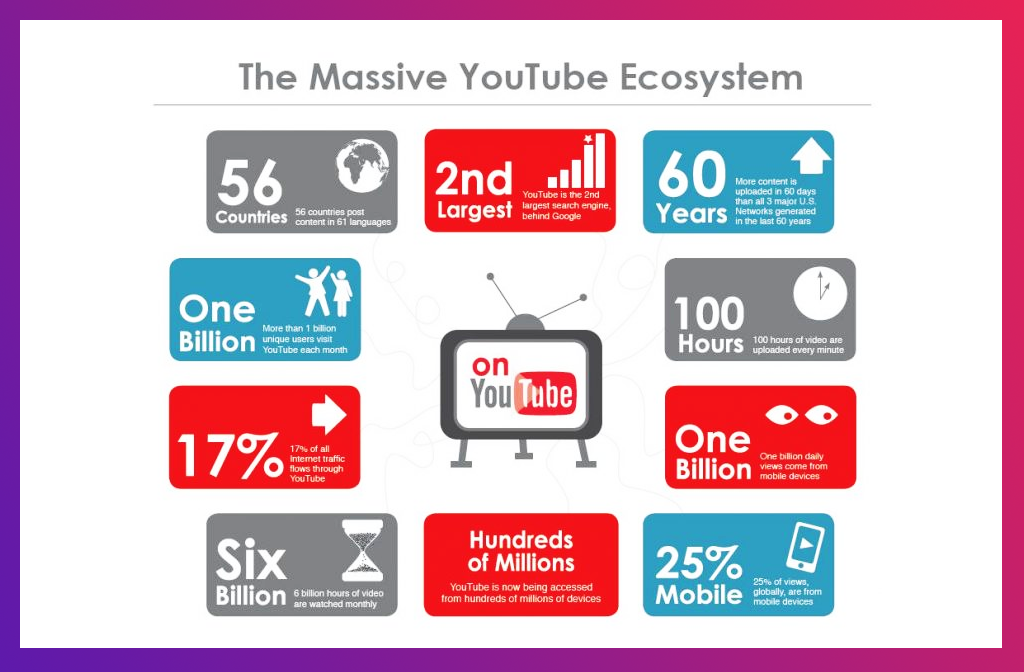 Here are some fun facts Pakistani Businesses should consider before developing content for YouTube:
Do your research

marketing guide

Create Content Buckets
Be Consistent on YouTube
Use Community Features
Use YouTube for SEO
Collaborate with others
Learn more about YouTube Marketing from this free resource provided by WordStream.  marketing guide
The easiest way to create and optimize content for Pinterest?
Pinterest is a different breed of social networks altogether.  I have seen people using Pinterest from bookmarking visual content to managing their wishlists.  The focus on the platform is more towards saving content instead of sharing it with others for likes and comments.  One can easily find everything and anything on the platform from cupcake recipes to how to fix your hair dryer.
Business uses Pinterest for an alternative search engine through which people can find their business and service offerings.   Again, you will need to work through the keywords in your profile, boards, and photo (pins) descriptions to get indexed and appear in relevant search results.   If used right, it can be a great tool to draw traffic to relevant pages on your site.   Another significant thing about Pinterest is a high level of user engagement that can be easily converted into a sale.
Check out these engagement stats from Pinterest: marketing guide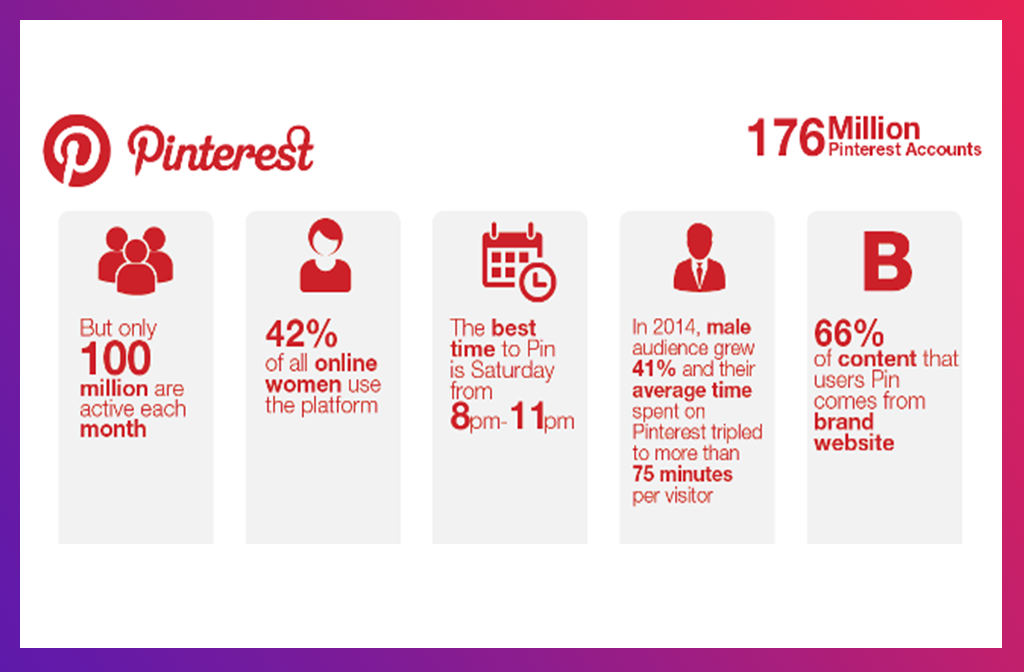 Learn more about Pinterest Marketing from this free resource provided by Neil Patel
---
Some Examples of how Pakistani Businesses are using Social Media Marketing
Here are some real-world examples of Pakistani businesses making the best use of Social Media Marketing: marketing guide
K-Electric is using Twitter at its Best!
K-Electric is one of the most prominent companies from Pakistan, which is using social media for both marketing and support purposes.  Their customer can interact with their dedicated social network teams and can work through various inquiries and complaints without leaving the social media platform.  It is the best example of implementing the Omnichannel approach the right way in a consumer business.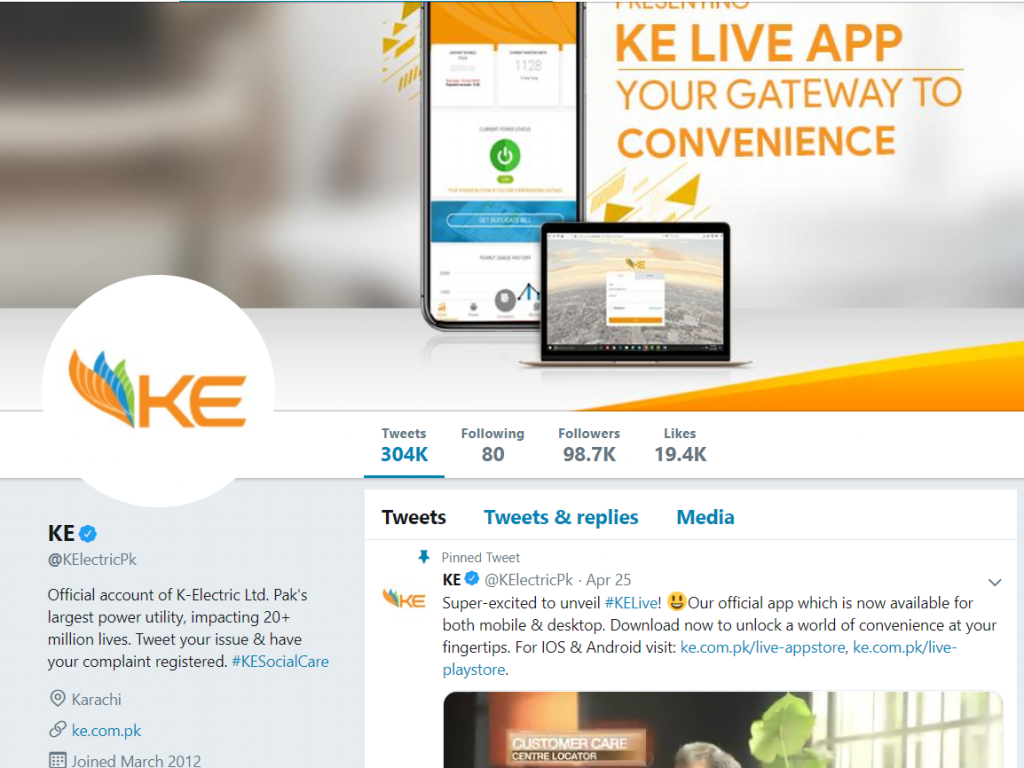 Kashee's Beauty Parlor using Facebook statuses the Best
The salon which has otherwise gained a lot of popularity locally owing to the intricate hairstyles their staffers create is also getting famous on Facebook with their impressive status updates.  The beauty business page scores an average of 3 thousand reactions on their status updates that makes it one of the top engaged pages amongst the local brands. marketing guide
Askari Bank has one of the most liked Facebook Photo last year
From the looks of it, Askari Bank Limited is using Facebook right to engage with its customers.  Their social media marketing efforts can be seen with their regular posts and status updates regarding their products and offerings.  However, one prominent component of their social media marketing is to celebrate religious occasions on their social media pages.   They never forget to say Jummah Mubarak to their followers with an interesting photo or caption.  Last year, they put up photos with religious captions before and during Hajj, and it is one of the most liked branded pictures of 2018. marketing guide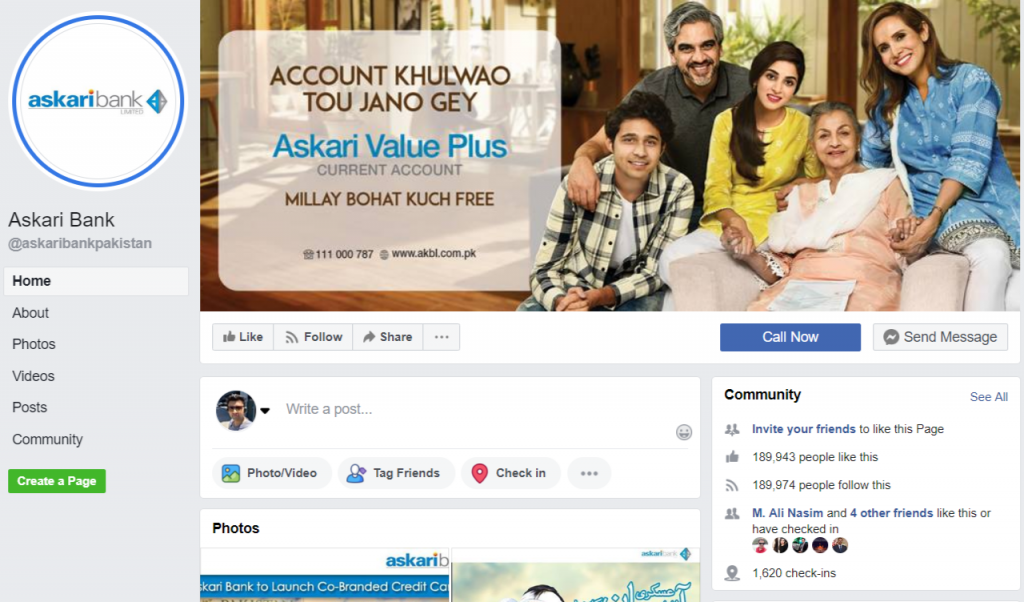 Zameen.com is making the best out of YouTube
marketing guide
Zameen.com is an online real estate portal which uses social media platforms like a pro. They have one of the most active YouTube channels from a brand outta Pakistan. They regularly posted different real estate property tour videos with captions and questions that ignite a discussion in the comments section. It is a very good example of how brands can create awareness using video content on YouTube.
We will be updating the content of this article.  Keep on checking this for the latest updates on Social Media Marketing.