FoodPanda Challenge:  #DontCook and Lock your Kitchen!
We all know Foodpanda, the friendly food-delivery app that has made eating-in easier for Pakistanis. The German-owned company has been operating in more than 40 countries worldwide. They have partnered with +30K restaurants to deliver the best food to every user's doorstep.
In Pakistan, Foodpanda helped change the eating-out norm by bringing the freshest dishes to your home. So, you can enjoy a relaxed meal at home without heading out. The company has been very active on social media lately, attracting new customers through influencer marketing campaigns.
Be it Ramadan or any other popular event, Foodpanda is one of the first companies to come up with a discount or promo for customers. This time, they have created a buzz with their 'Don't Cook, Foodpanda Karo' campaign. They chose top influencers around the country to take part in the campaign, and the hashtag #dontcook was spotted pretty much everywhere on Instagram.
Here are the numbers compiled after a successful run of the campaign by Foodpanda.
Key Statistics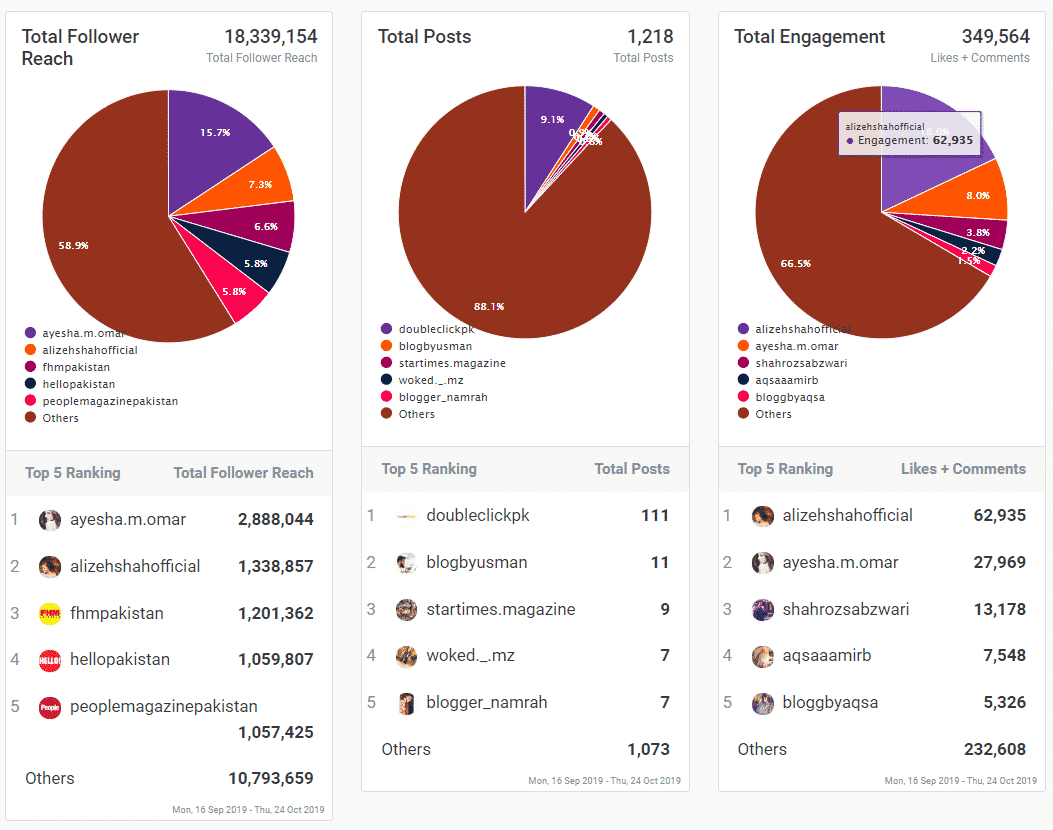 Total contributors: 515
Posts: 1,218
Followers reached: 18,339,154
Impressions on Instagram:   44,977,656
Total likes: 303,410
Overall comments: 46,154
Total engagement: 349,564
The stats look pretty impressive and speak of the long and arduous homework behind them. 44,977,656 people saw this campaign's activation on their social media and learned about the discounts! We would like to applaud Foodpanda's team on this milestone. For the savvy marketers out there, here are some key takeaways from the #DontCook campaign:
A sigh of relief
For those who have seen their moms spend countless hours in the kitchen, we know how we wish we could ease their workload. In the recent heat waves and soaring temperatures, Foodpanda launched a campaign that asked the chef-at-home to take a break and order Foodpanda! Since a variety of restaurants now deliver through this service, everyone can find something they like.
If you have been too busy cooking and not able to tend to important tasks, this campaign brought you a sigh of relief. The discounts went up to 70% and made ordering affordable.
A mix of celebs and mega influencers
As is with any social media campaign, there was a balance between celebrity and mega influencers in this campaign. The brand got celebrities like Ayesha Omar, Shahroz Sabzwari and Amir Liaquat onboard. It's safe to say that a good mix of the most relevant and top influencers gave Foodpanda the mileage they were looking for.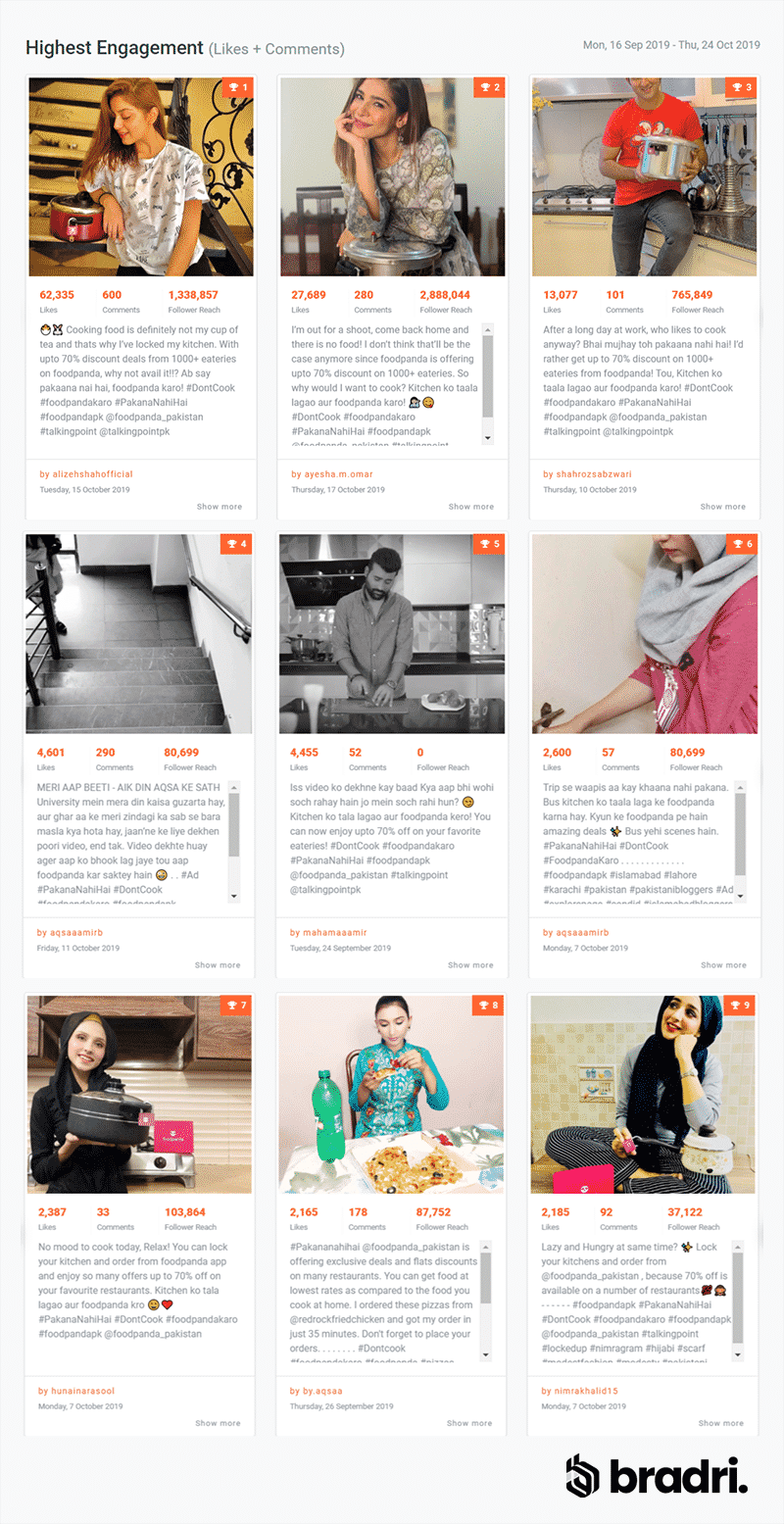 The highest engagement was noticed on Alizeh Shah and Ayesha Omar's posts because of their gross engagement levels. These two were also the accounts with the highest follower reach. Digital magazine accounts like FHM and Hello Pakistan followed the lead to seed more engagement to the #foodpandakaro message.
If you are also looking to go all out on a campaign, try to mix it up with celebrity accounts + mega influencers on the social medium of your choice.
Festive feeling
You could feel the buzz in the air, and the month turned into a festivity for foodies! Moreover, Foodpanda joined hands with local banks and partner restaurants to offer complimentary items and additional discounts!
The campaign turned into a festivity and there was also an event on Facebook by Foodpanda.
Who says food events are only held in physical spaces? If you are creative, you can market your product or service and make it attractive for the target audience. More people clicking 'interested' on the event means more people learning about the ongoing campaign in an organic way.
Public's reaction
While this is a commendable campaign and we loved the content, we also spotted some feedback from the online community. Many people commented on these posts, complaining about Foodpanda's customer service.
Knowing that this is the only proper food delivery network in Pakistan, Foodpanda also has to deliver through excellent customer service. However, if you are launching a campaign, you must straighten out these issues beforehand.
You could see some annoyed people in influencer's posts comments and elsewhere. Considering this is a nationwide delivery service, some bumps in the road are always expected.
Then there were people who were thoroughly happy with their orders and were compelled to praise the service.
Last word
Did you take part in the #dontcook festivities last month? Let us know what you think of this campaign. Should there be a re-run of this event in another month?
We believe this is a creative campaign and has potential to go big in its second edition (we hope there is!)