Today's marketing mix is incomplete without a solid Instagram strategy. Those who have devised plans to promote their brand on Instagram know well that this platform can do wonders with just a piece of visual content. Today we take a look at the #detoxmovement Instagram campaign by Head & Shoulders.
Head & Shoulders is a brand that has been thriving for decades. It has a loyal customer base, which is just another motive for the brand to work harder. If not for customer acquisition, the brand keeps churning out socially relevant campaigns to retain their existing customer base and grow globally as more than a shampoo brand.
When it comes to Instagram, Head & Shoulders is already mastering the game for a few years now. Be it a World Cup campaign with footballers or a largest group selfie challenge, you can expect bigger and better things every year with marketing campaigns, centered on user-generated Instagram posts.
Key Influencers and Messages of the Marketing Campaign
As the hashtag suggests, this marketing campaign is about positioning Head & Shoulders' new 'Charcoal Detox' shampoo as the best detox product for your scalp. The 'detox' trend is in full swing, so why not detox your scalp with a refreshing product that is widely available in the market?
With a team of 22+ Instagram influencers and celebs in Pakistan, the goal was to reach out to the masses and tell them to take care of their mind and body with a good detox. There were micro-influencers, celebrities, and vloggers posing with their shiny mane and urging people to follow suit.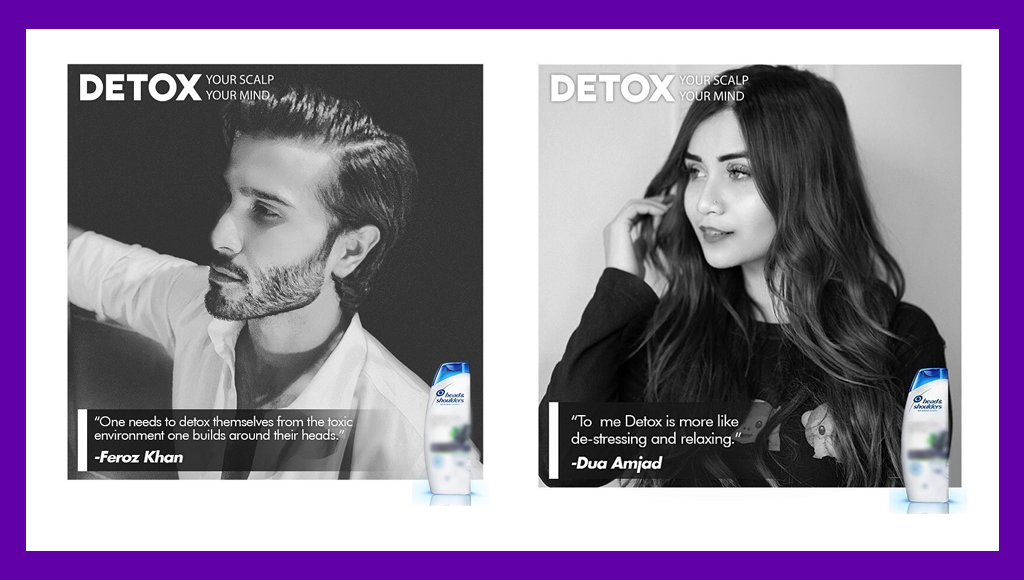 All influencers received a black box which contained a sample of the new shampoo and some other self-care goodies. The marketing campaign ran throughout the month of August, which also included a long Eid weekend, giving more exposure to the Instagram posts.  The key channel was Instagram of course, and every influencer posted a photo with a unique quote about how they need to detox their mind and scalp.
Key statistics
Here are some important numbers achieved by Head & Shoulders charcoal detox campaign:
Total contributors:                          22
Posts:                                                    45
Followers reached:                         3,990,678
Impressions on Instagram:        7,979,659
Total likes:                                        126,759
Overall comments:                         3,268
Total engagement:                       

130,027
Key takeaways from the #DetoxMovement marketing campaign
Celebrity vs influencers
We do not draw a line between celebrities and influencers, because all of them are influencers in some capacity. That is why, we call celebrities mega influencers, and so on. In this particular campaign, Feroze Khan, a popular actor, took the impressions of the marketing campaign to an extra mile.
https://www.instagram.com/p/B2RZwx5BXz3/
Based on Feroze's followers and influence both on and off-screen, he drove the most views to the hashtag in each capacity and earned 1.82% engagement. His Instagram reached 2,050,630 people and also engaged more people. Rest of the influencers joined in to take the reach to an impressive 3,852,139 audience of relevant people.
A product for all
The good thing about all Head & Shoulders campaigns is their inclusivity. It is a brand that is good for both men and women. A mix of both influencers in Pakistan endorsed the product, which is an impressive feat. Moreover, this campaign also implies that self-care is not just a marketing jargon limited to women, it is necessary to refresh and rejuvenate by detoxing your body.
The charcoal trend
The entire beauty industry has been raving about the benefits of charcoal. However, it is something our ancestors had been doing for ages. Since the trending of charcoal, it is a good step for any cosmetic or self-care brand to include it in their line up to get more customers.
What better time than scorching summers to invite people for a refreshing charcoal detox? We think it is the right move by P&G to jump on the charcoal bandwagon.