Influencer marketing was a priority of many Pakistani brands this year. Pakistani social media influencers took part in various social media and influencer marketing campaigns on different platforms, and much exciting content was made.
We watched the year unfold new and more exciting campaigns in the digital marketing industry, and here are some campaigns that stood out:
Yayvo by TCS – #Ismay
Influencers: Pakistani Social media influencers, Bilal Ashraf, Aiman Khan
Last year, Yayvo by TCS took the digital world by storm through their Ismay campaign. The campaign kicked off when mysterious black boxes got dispatched to social media influencers and celebrities in Pakistan. Nobody could open the locked box until the brand announced the code to unlock it. The campaign became very popular, so the brand did it again this year.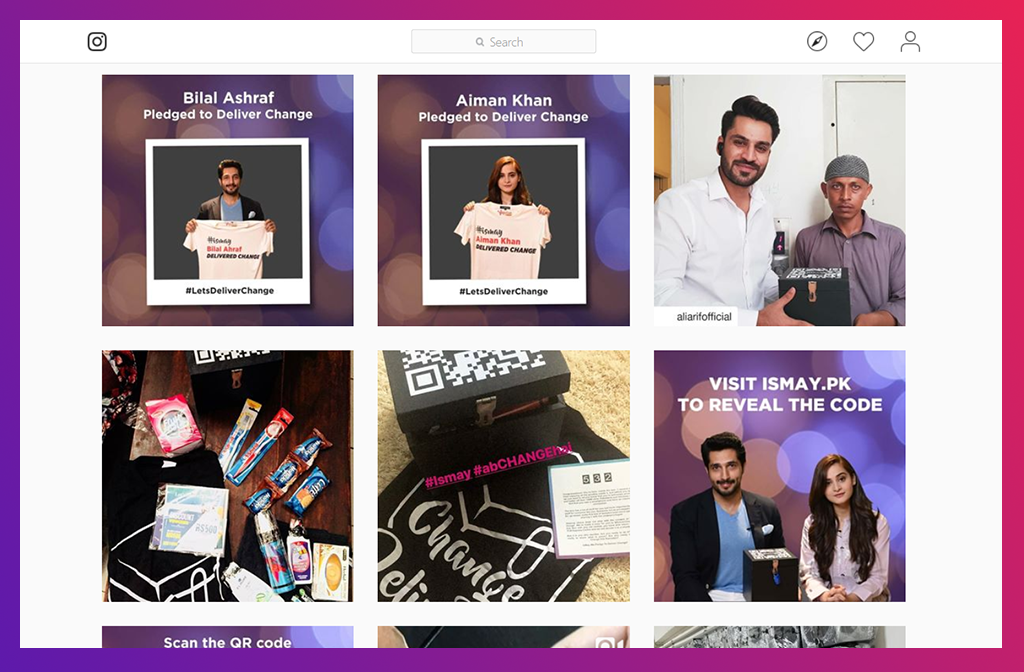 However, this year was not much about dispatching lots of free goodies to celebrities and Pakistani social media influencers. This year, Yayvo influencer marketing campaigns dispatched the box to some influencers and then asked people to sign up to receive these boxes during the campaign. When you received the box, you couldn't open it just like last year. When they announced the code, it became clear that this year "Ismay change hai."
The box had a pair of everything- one for you and one for someone who needed it the most. You could drop the box at a nearby TCS shop to donate it to a deserving person. With the hype around the locked box, TCS has managed to gather lots of traction in both 2017 and 2018.
Head&Shoulders Pakistan – #DandruffFreePakistan
Influencers: Pakistani bloggers and social media influencers
Pakistan Super League is one of the biggest events in the country. Held annually, the tournament has started attracting the attention of various brands for promotions and sponsorship. Head & Shoulders Pakistan jumped onboard this year by introducing a campaign that became popular due to its content.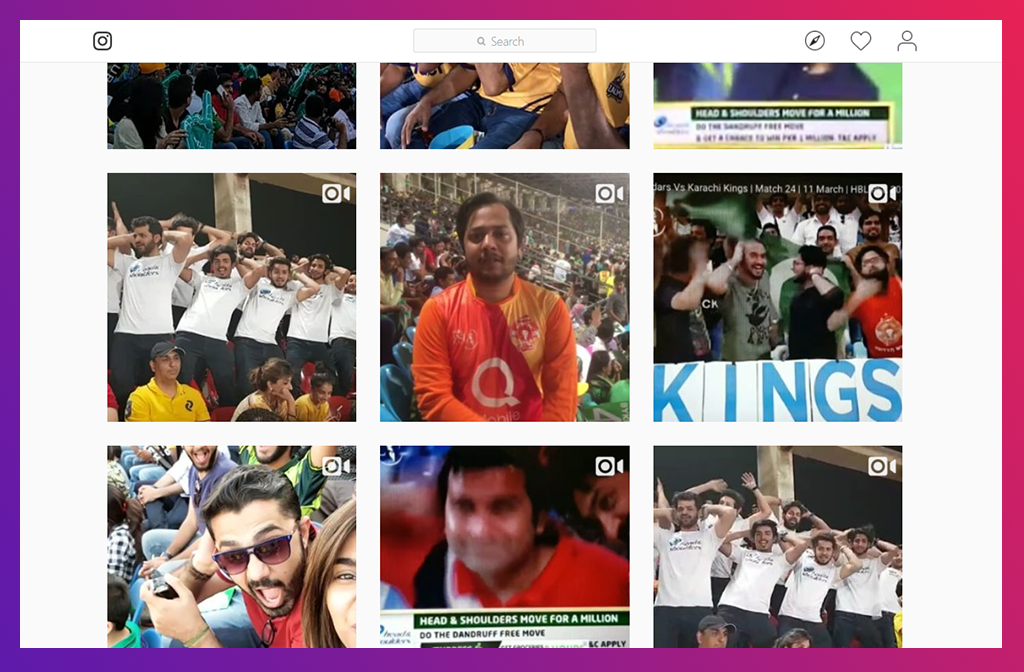 The campaign targeted cricket enthusiasts from all over Pakistan and urged them to do the 'Dandruff free move' just like the advert. Influencers had to shoot a video doing the move and post in on their profiles.
While influencers did this on the internet, Head & Shoulders teamed with Pakistan Super League broadcasts where the audience had to do the dandruff free move if the camera captured them during a match. It was a creative way to incorporate your brand into the biggest tournament of the country, and celebrities like Ramiz Raja also took part in the on-screen broadcast moves, flaunting their dandruff-free mane!
Uber Pakistan – Move with Uber and #HojaoUnstoppable
Influencers: Darren Sammy, Hassan Ali, Kainat Imtiaz
Uber Pakistan used one of the biggest platforms in the country, the Pakistan Super League, to showcase their expertise in branding and transportation. The brand becomes the official transportation partner of HBLPSL. They kicked off the season by flying out the PSL trophy in a chopper to the Dubai Stadium, and that was the beginning.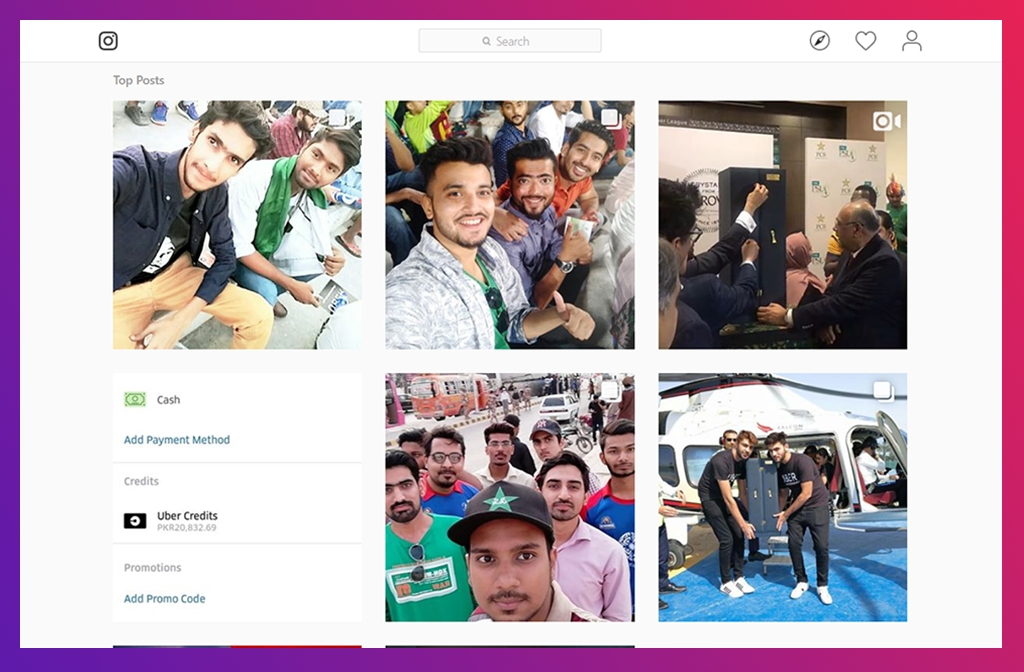 In their Influencer Marketing Campaign they have thoroughly researched the tournament and its dynamics, Uber ran a series of competitions and on-ground contests to maximize their digital as was as offline reach. Move with Uber was one of the segments where a fan had to race with a car on the ground, and the winner got a signed cricket ball by a star cricketer. Hojao Unstoppable was the advert to kick off Uber's collaboration with PSL, starring Darren Sammy, Hassan Ali and Kainat Imtiaz.
As the tournament proceeded, Uber also flew a few lucky winners to Dubai for PSL matches and in the semis and finals, Uber invited one lucky fan to attend the closing ceremony on the ground. In short, the brand was everywhere during PSL, getting more follows and touching upon the lives of cricket enthusiasts.
Knorr Noodles – Boriyat Busters
Influencer: Danish Ali
Knorr Noodles has been organizing the 'Boriyat Busters' show for two years in a row. The show includes kids who do fun challenges, and celebrities join them in each show. This year, Knorr Noodles gained more views for the show by collaborating with Danish Ali, who is a popular comedian with a huge fan following on Facebook and YouTube.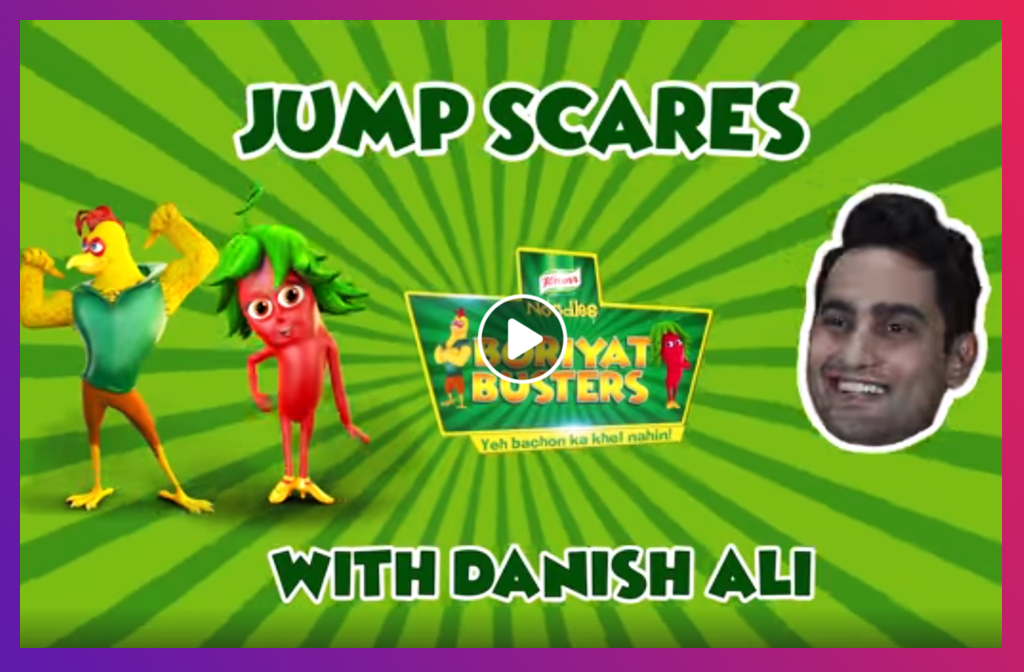 Danish Ali produces a set of funny videos for the brand, and there were celebrity appearances in all of those videos. Celebrities like Shahid Afridi, Mohammad Amir, Iqra Aziz, Osman Khalid Butt, and Ahad Raza Mir graced the videos as part of Danish Ali's skits.
It is a good idea to involve someone who does videos because Danish Ali's videos target Pakistanis in general, and it maximizes the reach of his content without the limitations of age groups or language.
Check out some of the videos here.
UN Women – #StopJahezKhori
Influencers: Prominent Pakistani celebrities like Ayesha Omar, Tapu Javeri, Yasir Hussain, Rehmat Ajmal, Iqra Aziz, etc.
Dowry is a huge curse in Pakistani society. So many girls are not able to get married into a family just because their parents can't afford a car for the groom's family. United Nations Women have stood up against this and introduced a campaign in a unique way, involving the biggest celebrities in Pakistan.
There is a photo of every celebrity with a mehndi pattern on their hand that says 'jahez khori band karo.' UN Women described this term in a picture on their Facebook: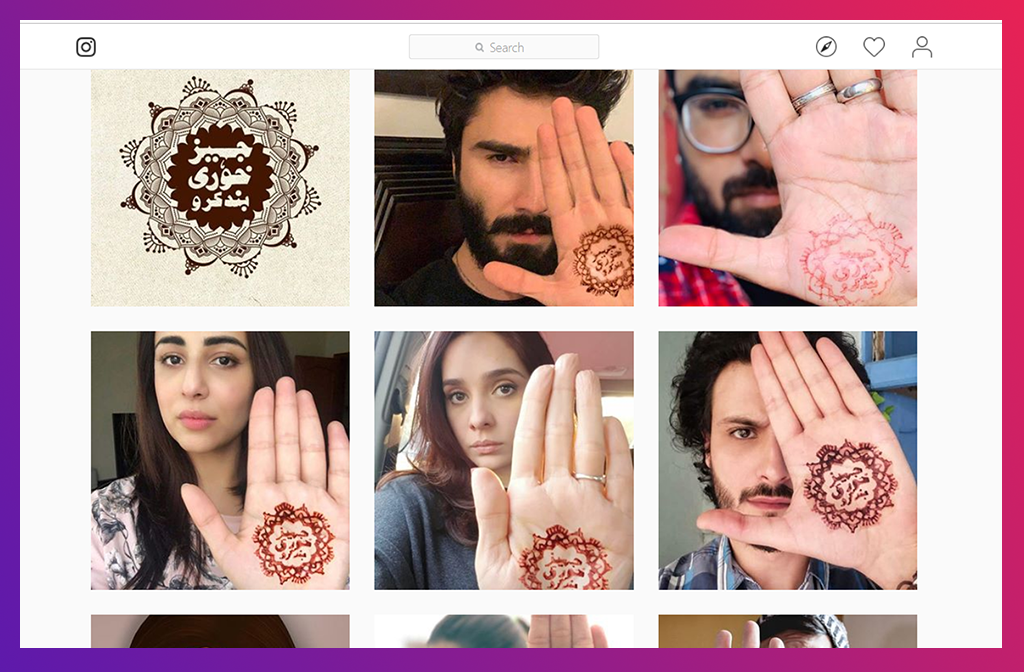 The Influencer Marketing Campaigns is still going strong, and many people are raising similar examples. People are talking about guys getting rejected because of a poor salary, expensive wedding functions that put debt on both families, so in many ways, the campaign is gaining more traction as the year ends.
Honor Pakistani – Honor x Junejo
Influencer: Irfan Junejo
As the mobile phone industry expands in Pakistan, more brands are looking for groundbreaking campaigns to enter the market. String Media, backed by Honor Pakistan, cooked up an innovative campaign by inviting all content creators from Pakistan to partner with Honor for their new commercial.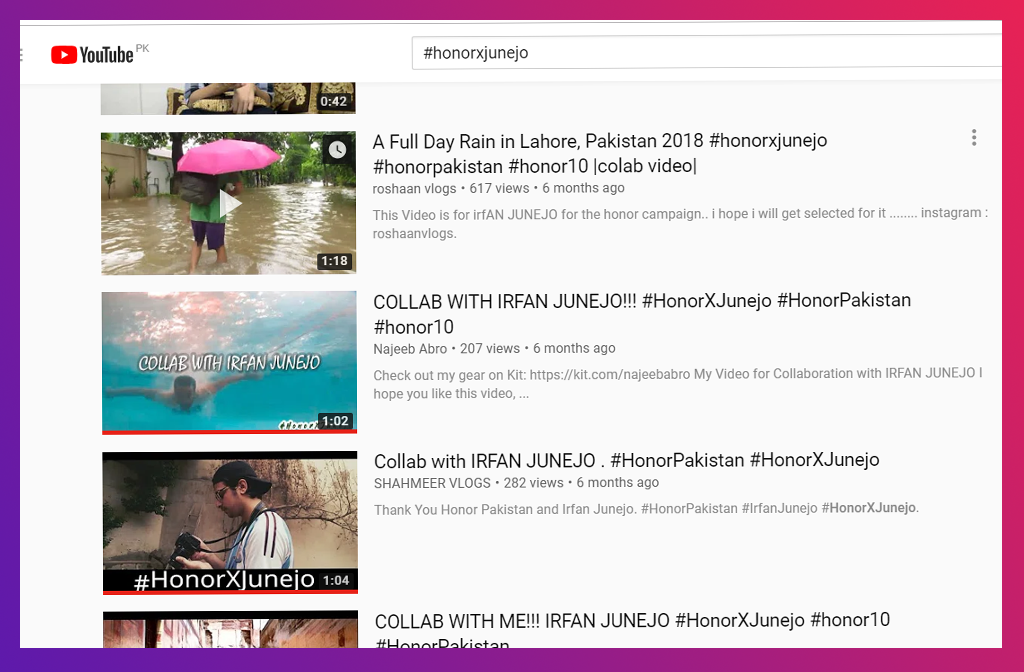 The company collaborated with pro vlogger Irfan Junejo, naming the campaign HonorxJunejo. Irfan Junejo posted on his social profiles, calling out content creators from all over Pakistan to send him a video that could be picked and included in the commercial.
As soon as Junejo spread the word, entries started pouring in from Hunza, Balochistan, Sind and even from international accounts. Honor Pakistan chose few lucky winners and sent the group on a trip to unseen places in Pakistan to shoot the video.
Here is the commercial:
It was a clever idea to include someone like Junejo, with a huge following on all social mediums. He stirred up the conversation further by activating common people and bringing more talkability to the brand.
Coca-Cola Pakistan – #CokeFest
Influencers: micro influencers from Pakistan, popular Pakistani Facebook group 'Foodies R Us.'
As always, Coca-Cola Pakistan includes micro influencers in their Influencer Marketing Campaigns to maximize their digital reach on popular social media platforms like Twitter, Facebook, and Instagram. This year, Coke Festival was bigger and even better than in past years. Coke Festival is a huge foodie event which is held every year in major cities of Pakistan.
Since they have to create some buzz around their event, Coca-Cola signs influencers onboard for pre-hype and during the event promotion. Pre-hype included talks around the sponsors, the stalls, the partners, ticket costs, ticket partners, celebrity performances and discounts on entry tickets. Coke also reminds people through influencers about the entry gates, location and ways to maneuver around the festival location on event days.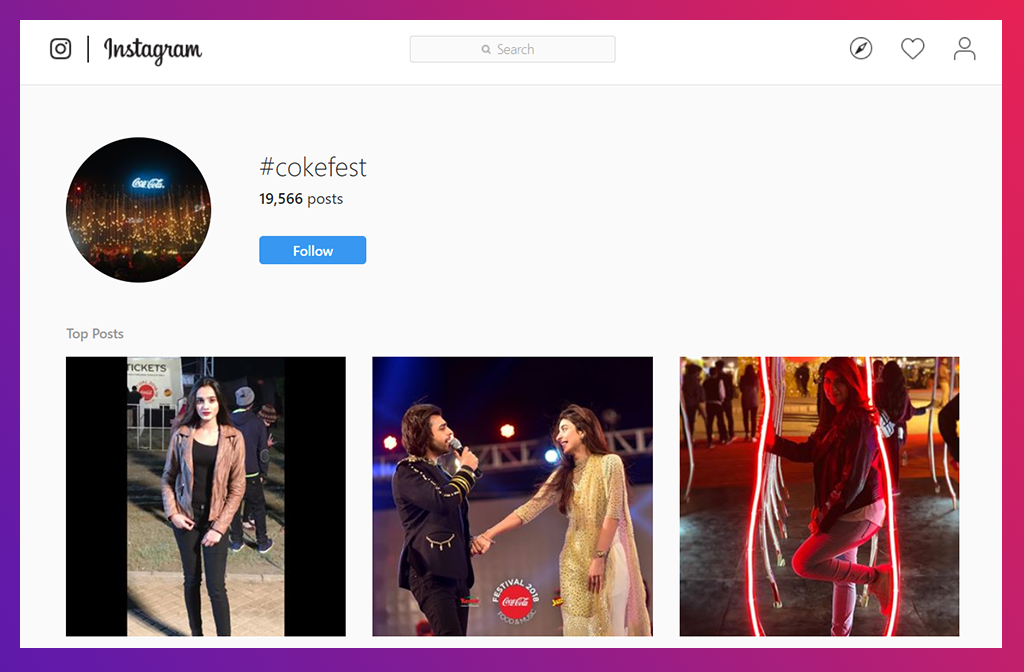 Follow the #cokefest18 hashtag on Facebook, Twitter, and Instagram to see how the brand successfully manages a huge event and makes it look like a piece of cake!
Generation Pakistan – #StarliteKarachi and #SohniDharti
Influencers: Mahoor Jamal, Abeera Riaz
If there is one Pakistani clothing brand that is known for out-of-the-box marketing, it is Generation Pakistan. The company not only creates beautiful and timeless pieces of clothing but also finds unique ways to promote it on digital media.
Two of Generation's Influencer Marketing Campaigns got a lot of buzz this year. One was their Sohni Dharti campaign which spread awareness around climate change and pollution in Pakistan, and the other one is their recent Starlite Campaign.
The brand collaborates with new faces, which are primarily popular on Instagram. For their Starlite Karachi campaign, Generation partnered with Instagram celebrity photographer and illustrator Mahoor Jamal. Mahoor has photographed Instagram influencer Abeera Riaz in Generation's new collection and made it look like we are still living in the '70s. The 70's Karachi was a colorful period, and with the help of Mahoor, Generation transported us back into that period.
Watch out for cooler campaigns on Generation's social media pages because the brand is still second to none in weaving magic on digital spaces.
Atiqa Odho Cosmetics
Influencers: Jadirah Sarmad, Ayesha Abubaker, Wardah Jafri
Atiqa Odho is one unique brand from Pakistan that names its products by taking inspirations from locals, and this year they took a step further by launching a new product line in collaboration with Pakistani Instagram influencers!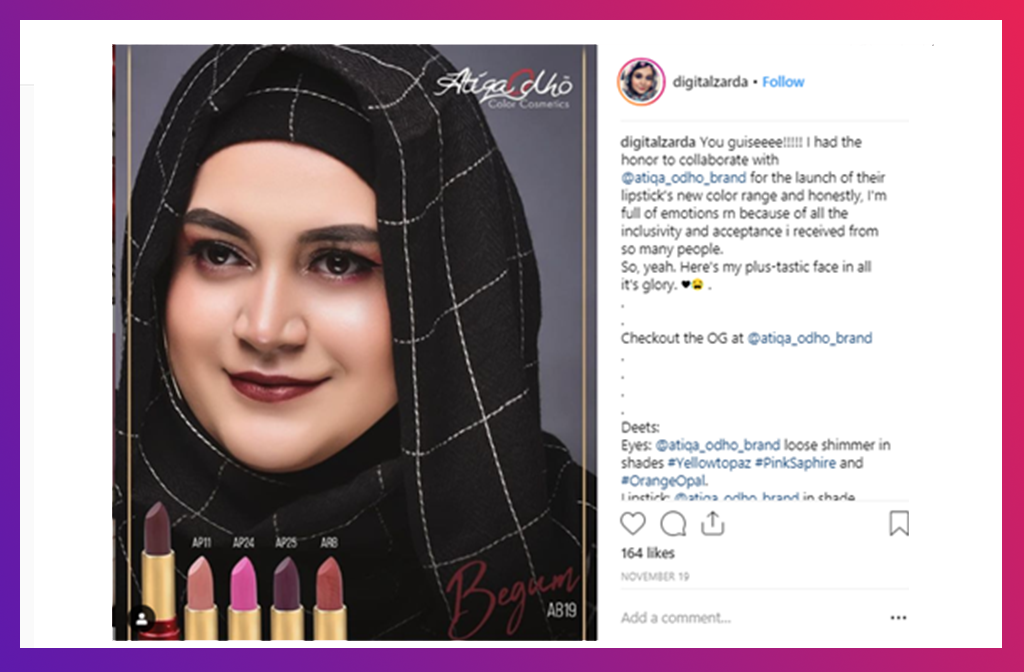 The campaign involved beauty bloggers of Pakistan, namely Jadirah, Wardah, and Ayesha, all of whom are popular on Instagram for their makeup and beauty tutorials. While it is normal for brands to send a PR package to bloggers for publicity, Atiqa Odho involved these girls to flaunt her new makeup line.
Complete freedom was given to the girls to create a glam look using the new Atiqa Odho cosmetics line. While celebrity endorsement is a good marketing stint, micro influencers can give your brand more mileage under lesser costs.
Here is why Micro Influencers are Generating the Right Results for Pakistani Businesses
Featured Image Credits: @Rheson